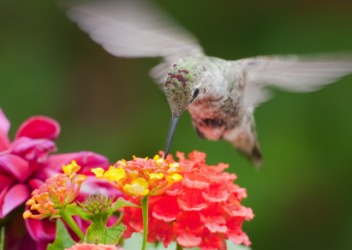 A hummingbird's wings flutter.
noun
The definition of a flutter is a state of confusion or excitement.

An example of flutter is how a group of friends feel after finding out two unlikely members of that group become romantically involved.
verb
To flutter is defined as to quickly flap wings, vibrate or tremble.

An example of to flutter is how the hummingbird's wings move.
---
flutter
to flap the wings rapidly, as in short flight or without flying at all
to wave or vibrate rapidly and irregularly: a flag fluttering in the wind
to move with quick vibrations, flaps, etc.
to be in a state of tremulous excitement; tremble; quiver
to move restlessly; bustle
Origin of flutter
Middle English
floteren
from Old English
flotorian
, frequentative of
flotian
from base of
fleotan
: see fleet
to cause to move in quick, irregular motions
to throw into a state of excitement, alarm, or confusion
a fluttering movement; vibration
a state of excitement or confusion
a condition of the heart in which the contractions are very rapid but generally regular
a potentially destructive vibration of a part of an aircraft, as the wing, caused by aerodynamic forces

Brit.

a small gamble or speculation

a rapid fluctuation in the amplitude of a reproduced sound
a flicker in the image on a television screen
---
flutter
verb
flut·tered, flut·ter·ing, flut·ters
verb
intransitive
To wave or flap rapidly in an irregular manner: curtains that fluttered in the breeze.

a. To fly by a quick light flapping of the wings.

b. To flap the wings without flying.

To move or fall in a manner suggestive of tremulous flight: "Her arms rose, fell, and fluttered with the rhythm of the song" ( Evelyn Waugh )
To vibrate or beat rapidly or erratically: My heart fluttered wildly.
To move quickly in a nervous, restless, or excited fashion; flit.
verb
transitive
To cause to flutter: "fluttering her bristly black lashes as swiftly as butterflies' wings" ( Margaret Mitchell )
noun
The act of fluttering.
A condition of nervous excitement or agitation: Everyone was in a flutter over the news that the director was resigning.
A commotion; a stir.
Medicine Abnormally rapid pulsation, especially of the atria or ventricles of the heart.
Rapid fluctuation in the pitch of a sound reproduction resulting from variations in the speed of the recording or reproducing equipment.
Chiefly British A small bet; a gamble: "If they like a flutter, Rick will get them better odds than the bookies" ( John le Carré )
Origin of flutter
Middle English
floteren
from
Old English
floterian
; see
pleu-
in Indo-European roots.
Related Forms:
---
flutter

Verb
(third-person singular simple present flutters, present participle fluttering, simple past and past participle fluttered)
(intransitive) To flap or wave quickly but irregularly.

flags fluttering in the wind

(intransitive) Of a winged animal: to flap the wings without flying; to fly with a light flapping of the wings.
To cause something to flap.

A bird flutters its wings.

To drive into disorder; to throw into confusion.
Noun
(plural flutters)
The act of fluttering; quick and irregular motion.

the flutter of a fan

A state of agitation.

(UK) A small bet or risky investment.
---