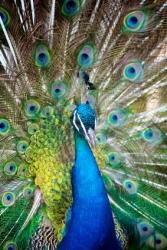 A peacock flaunts his feathers.
verb
Flaunt is defined as to go out of your way to display something, such as your wealth or your body, in a manner that is generally considered offensive, inappropriate or gaudy.

An example of flaunt is when you buy lots and lots of obviously expensive cars and houses just to show off how much money you have.
An example of flaunt is when you wear really short, tight clothing to show off your body.
---
flaunt
to make a gaudy, ostentatious, conspicuous, impudent, or defiant display
to flutter or wave freely
Origin of flaunt
15th and 16th circa , probably from dialect, dialectal
flant
, to strut coquettishly, akin to Norwegian
flanta
from Old Norse
flana
, run back and forth from Indo-European an unverified form
plano-
from base an unverified form
pla-
, broad, flat, spread out from source Classical Greek
planos
, wandering
to show off proudly, defiantly, or impudently: to flaunt one's guilt

Origin of flaunt

through confusion in form and meaning flout: usage objected to by many
Archaic
the act of flaunting
---
flaunt
verb
flaunt·ed, flaunt·ing, flaunts
verb
transitive
To exhibit ostentatiously or shamelessly: flaunts his trendy clothes; flaunts his knowledge about music. See Synonyms at show.
Usage Problem To ignore or disregard (a rule, for example) openly or scornfully.
verb
intransitive
To show oneself off or move in an ostentatious way: "A tortoiseshell butterfly flaunted across the window" ( Virginia Woolf )
To wave grandly: pennants flaunting in the wind.
Origin of flaunt
Origin unknown
Related Forms:
Usage Note: Flaunt as a transitive verb means "to exhibit ostentatiously": She flaunted her wealth. To flout is "to show contempt for something by disregarding it": Some people at the reception flouted convention by wearing sneakers. For some time now flaunt has been used in the sense "to show contempt for," even by educated users of English. But this usage is still widely seen as erroneous. In our 2009 survey, 73 percent of the Usage Panel rejected it in the sentence This is just another example of an executive flaunting the rules for personal gain.
---
flaunt

Verb
(third-person singular simple present flaunts, present participle flaunting, simple past and past participle flaunted)
To parade, display with ostentation.

She's always flaunting her designer clothes.

(intransitive, archaic or literary) To show off, as with flashy clothing.
Usage notes
Do not confuse with flout.
Origin
Of North Germanic origin, related to Norwegian flanta ("to show off, wander about"), Icelandic flana ("to rush about, act rashly or heedlessly"); or perhaps related to Swedish flankt ("loosely, flutteringly"; compare English flaunt-a-flaunt), from Swedish flanka ("waver, hang and wave about, ramble"), a nasalised variant of Swedish flakka ("to waver"), related to Middle English flacken ("to move to and fro, flutter, palpitate"), see flack.
---