bread

bread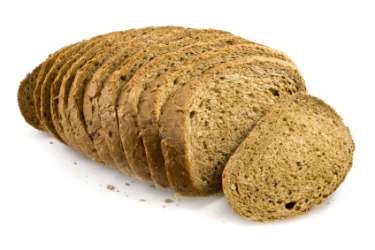 A sliced loaf of bread.
noun
The definition of bread means a baked combination of flour and liquid that has often been shaped into loaves.

The top and bottom parts of a sandwich are examples of bread.

Bread is a slang word for money.

The money earned from a high paying job is an example of bread.
---
bread
a food baked from a leavened, kneaded dough made with flour or meal, water, yeast, etc.
a similar food, as matzo, that is not leavened and so remains flat when baked

any baked food like bread but made with a batter: quick breads, corn bread
food generally
the means of living; livelihood: to earn one's bread

Slang

money
Origin of bread
Middle English
bred
from Old English
bread,
crumb, morsel from Indo-European an unverified form
bhreu-
, variant, variety of an unverified form
bhereu-
, to ferment from base an unverified form
bher-
, well up, seethe from source brew, burn, Classical Latin
fervere,
to boil
to cover with bread crumbs before cooking
bread and butter
one's means of subsistence; livelihood
cast one's bread upon the waters
to be generous or do good deeds without expecting something in return
know which side one's bread is buttered on
to know what is to one's advantage and from what source it comes
---
bread
noun
A staple food made from flour or meal mixed with other dry and liquid ingredients, usually combined with a leavening agent, and kneaded, shaped into loaves, and baked.

a. Food in general, regarded as necessary for sustaining life: "If bread is the first necessity of life, recreation is a close second" ( Edward Bellamy )

b. Something that nourishes; sustenance: "My bread shall be the anguish of my mind" ( Edmund Spenser )

a. Means of support; livelihood: earn one's bread.

b. Slang Money.
transitive verb
bread·ed, bread·ing, breads
To coat with bread crumbs, as before cooking: breaded the fish fillets.
Origin of bread
Middle English
from
Old English
brēad
; see
bhreu-
in Indo-European roots.
N., sense 3b, possibly from
Cockney rhyming slang
bread and honey
---
bread

---