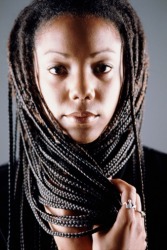 A woman with long plaits.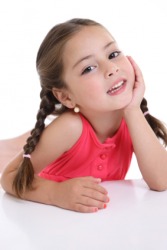 A little girl with her hair in braids.
noun
The definition of a braid is an interweaving of three or more strips of something.

An example of a braid is a popular hair style.
verb
Braid means to weave together three or more strips of something.

An example of braid is to use several strips of cloth to interweave strips to make a rug.
---
braid
to interweave three or more strands of (hair, straw, etc.)
to make by such interweaving: to braid a rug

to arrange (the hair) in a braid or braids

Old Poet.

to tie up (the hair) in a ribbon or band

to trim or bind with braid
Origin of braid
Middle English
breiden,
to dart, twist, pull from Old English
bregdan,
to move quickly from Indo-European base an unverified form
bhere?-,
to gleam, flash from source bream, Old Norse
bra,
eyelid
a band or strip formed by braiding
a length of braided hair
a woven band of cloth, tape, ribbon, etc., used to bind or decorate clothing
---
braid
verb
braid·ed, braid·ing, braids
verb
transitive
a. To interweave three or more strands, strips, or lengths of in a diagonally overlapping pattern: braided the rags into a strong rope.

b. To create (something) by such interweaving: braid a rug.

c. To style (the hair) by such interweaving.

d. To mingle (discrete elements, for example) as if by such interweaving: braided the ideas into a complex thesis.

To decorate or edge (something) with a trim of interwoven strands: finished the jacket by braiding the collar and cuffs.
To fasten or decorate (hair) with a band or ribbon.
verb
intransitive
To flow, twist, or wind as if interwoven: a stream braiding through the woods.
noun
A braided segment or length, as of hair, fabric, or fiber.
Ornamental cord or ribbon, used especially for decorating or edging fabrics.
A ribbon or band used to fasten the hair.
Slang Naval officers of high rank.
Origin of braid
Middle English
braiden
from
Old English
bregdan
to weave
Related Forms:
---
braid

---