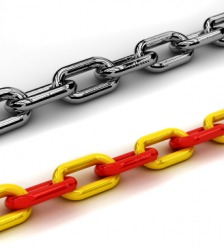 Two different colored chains.
noun
The definition of a chain is a series of objects, people or events which are connected to one another, or a flexible series of metal links.

An example of a chain is a link of DNA.
An example of a chain is a series of connected metal links used to contain a dog in a yard.
verb
Chain is defined as to fasten, secure or confine.

An example of to chain is to handcuff someone.
---
chain
a flexible series of joined links, usually of metal, used to pull, confine, etc. or to transmit power
tire chain
[pl.]

bonds, shackles, etc.
anything that binds, ties, or restrains: chains of love
captivity; bondage

any chainlike ornament, badge, etc.
a chainlike measuring instrument, or its measure of length; specif.,

a surveyor's (or Gunter's) chain (66 feet or 20.117 meters or 100 links)
an engineer's chain (100 feet or 30.48 meters or 100 links)

Football

a chain 10 yards in length, used to measure for a first down

a series of things connected causally, logically, physically, etc.: chain of events, mountain chain
a number of stores, restaurants, etc. owned by one company, specif., such a group of franchised businesses having the same name

Chem.

a linkage of atoms in a molecule
Origin of chain
Middle English and Old French
chaine
from Classical Latin
catena
from Indo-European base an unverified form
kat-
, to twist, twine from source probably Old English
heathor
, confinement
to fasten or shackle with chains
to hold down, restrain, confine, etc.
Chain
1906-79; Brit. biochemist, born in Germany
---
chain
noun
a. A connected, flexible series of links, typically of metal, used especially for holding objects together, for restraining, or for transmitting mechanical power.

b. Such a set of links, often of precious metal and with pendants attached, worn as an ornament or symbol of office.

c. often chains Football Such a set of links measuring ten yards and attached to a pole at each end, moved up and down the field to indicate necessary yardage for gaining a first down.

A restraining or confining agent or force.
chains

a. Bonds, fetters, or shackles.

b. Captivity or oppression; bondage: threw off the chains of slavery.

A series of closely linked or connected things: a chain of coincidences. See Synonyms at series.
A number of establishments, such as stores, theaters, or hotels, under common ownership or management.
A range of mountains.
Chemistry A series of chemically bonded atoms, especially carbon atoms, which may be arranged in an open, branched, or cyclic structure.

a. An instrument used in surveying, consisting of 100 linked pieces of iron or steel and measuring 66 feet (20.1 meters). Also called Gunter's chain .

b. A similar instrument used in engineering, measuring 100 feet (30.5 meters).

c. Abbr. ch A unit of measurement equal to the length of either of these instruments.
transitive verb
chained, chain·ing, chains
To bind or make fast with a chain or chains: chained the dog to a tree.
To restrain or confine as if with chains: workers who were chained to a life of dull routine.
Origin of chain
Middle English
chaine
from
Old French
from
Latin
catēna
chain
left to right: figaro, sash, and stud links
---
chain

---