succession

suc·ces·sion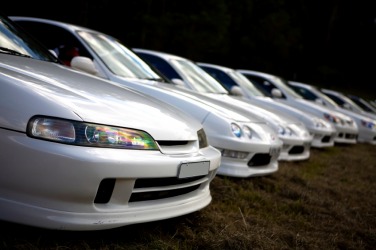 A succession of white cars.
noun
Succession is a series of related things going one after the other or to a title or job passing on to another person.

An example of succession is the series of girlfriends a man may have one after the other.
An example of succession is when a king steps down and his son becomes the new king.
---
succession
the act of succeeding or coming after another in order or sequence or to an office, estate, throne, etc.
the right to succeed to an office, estate, etc.
a number of persons or things coming one after another in time or space; series; sequence: a succession of delays

a series of heirs or rightful successors of any kind
the order or line of such a series

Ecol.

the slow, regular sequence of changes in the regional development of communities of plants and associated animals, culminating in a climax characteristic of a specific geographical environment
Origin of succession
Old French from Classical Latin
successio
from
succedere:
see succeed
in succession
one after another in a regular series or sequence; successively
---
succession
noun
The act or process of following in order or sequence.
A group of people or things arranged or following in order; a sequence: "A succession of one-man stalls offered soft drinks" ( Alec Waugh ) See Synonyms at series.

a. The sequence in which one person after another succeeds to a title, throne, or position.

b. The right of a person or a line of persons to so succeed.

a. The act or process of succeeding to the rights or duties of another.

b. The act or process of becoming entitled as a legal beneficiary to the property of a deceased person.

Ecology The gradual replacement of one type of ecological community by another in the same area, involving a series of orderly changes, especially in the dominant vegetation, and often resulting in the establishment of a climax community.
Origin of succession
Middle English
from
Old French
from
Latin
successiō
successiōn-
from
successus
past participle of
succēdere
to succeed
; see
succeed
.
Related Forms:
suc·ces′sion·al

adjective
suc·ces′sion·al·ly

adverb
---
succession

Noun
(plural successions)
Origin
From Latin successio, successionem.
---
succession - Legal Definition
n
The taking over of a previous official's office, rank, or duties by a new person; the process by which a decedent's property or rights passes to the inheritors thereof, under the laws of descent and distribution. See also
descent
.
intestate succession
State laws governing inheritance of property belonging to individual who dies without a will. 
---