progression

pro·gres·sion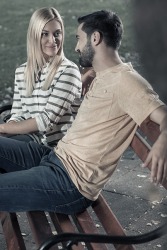 Tim had a progression of blonde girlfriends after Sarah broke up with him last year.
noun
Progression is the way things move forward, or a series of successive events.

When you go from one blonde girlfriend to another almost identical blonde girlfriend over and over, this is an example of a progression of blonde girlfriends.
When an action you take has a predictable result that leads to the next action you take, this is an example of a logical progression of events.
---
progression
a moving forward or onward; progress
a sequence or succession, as of acts, happenings, etc.

Math.

a sequence of numbers, each of which is obtained from its predecessor by the same rule

Music

the movement forward from one tone or chord to another
a succession of tones or chords
Origin of progression
Middle English from Middle French from Classical Latin
progressio
---
progression
noun
Movement or change from one member of a continuous series to the next: progression of the disease in stages.
A continuous series; a sequence: a progression of limousines. See Synonyms at series.
Mathematics A series of numbers or quantities in which there is always the same relation between each quantity and the one succeeding it.
Music

a. A succession of tones or chords.

b. A series of repetitions of a phrase, each in a new position on the scale.
Related Forms:
pro·gres′sion·al

adjective
---
progression

Noun
(plural progressions)
The act of moving from one thing to another.
(mathematics) A sequence obtained by adding or multiplying each term by a constant.
Origin
From Old French progression.
---