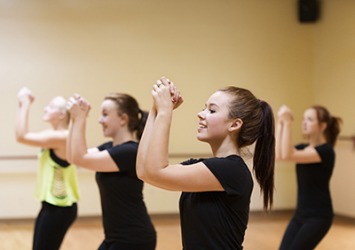 Kylee and the other girls in the group practice their dance sequence for the upcoming performance.
noun
Sequence is a specific order in which things occur.

An example of a sequence is a TV show with a beginning, middle and end.
---
sequence
the following of one thing after another in chronological, causal, or logical order; succession or continuity
the order in which this occurs

a continuous or related series, often of uniform things: a sonnet sequence
three or more playing cards in unbroken order in the same suit; run
a resulting event; consequence; sequel

Biochem.

the linear order of bases in a nucleic acid or of amino acids in a protein

Math.

an ordered set of quantities or elements

Film

a succession of scenes constituting a single, uninterrupted episode

Music

the repetition of a melodic pattern in the same voice part but at different pitch levels

Origin of sequence

ME < ML sequentia < LL(Ec), used as transl. of Gr(Ec) akolouthia, a succession of notes on the last syllable of the alleluia: see acolyte

R.C.Ch.

a hymn coming immediately before the Gospel in certain Masses
Origin of sequence
Middle French from LL, a following from Classical Latin
sequens
: see sequent
transitive verb
-·quenced

,

-·quenc·ing
to arrange in a sequence; put in order

Biochem.

to find the unique order of (structural units of a gene, protein, etc.) by chemical analysis
---
sequence
noun
A following of one thing after another; succession.
An order of succession; an arrangement.
A related or continuous series. See Synonyms at series.
Games Three or more playing cards in consecutive order and usually the same suit; a run.
A series of related shots that constitute a complete unit of action in a movie.
Music A melodic or harmonic pattern successively repeated at different pitches with or without a key change.
Roman Catholic Church A hymn sung between the gradual and the Gospel.
Mathematics An ordered set of quantities, as x, 2 x 2, 3 x 3, 4 x 4.
Biochemistry The order of constituents in a polymer, especially the order of nucleotides in a nucleic acid or of the amino acids in a protein.
transitive verb
se·quenced, se·quenc·ing, se·quenc·es
To organize or arrange in a sequence.
To determine the order of constituents in (a polymer, such as a nucleic acid or protein molecule).
Origin of sequence
Middle English
a type of hymn
from
Old French
from
Medieval Latin
sequentia
hymn, that which follows (from its following the alleluia)
from
Late Latin
from
Latin
sequēns
sequent-
present participle of
sequī
to follow
; see
sekw-
1
in Indo-European roots.
---
sequence

---