fruit

fruit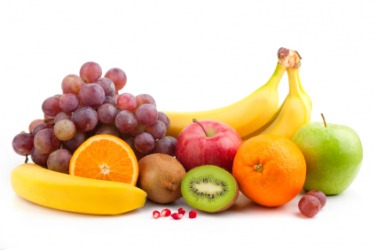 A selection of different fruits.
noun
The definition of a fruit is the mature ovary of a flowering plant that is edible and usually eaten raw.

Facts About Fruits

Fruits that have a hardened shell belong to the group Pepo.
Fruits that have a rind belong to the group called Hesperidium.
Fruits that grow from a single ovary in the plant are a berry.

An example of a fruit from the group Pepo is a pumpkin, gourd, melon and cucumber.
Examples of fruits from the group Hesperidium are lemons, limes, grapefruits and oranges.
Examples of fruits from the True Berry group are gooseberry, currants, eggplant, kiwi and grapes.

Fruit is defined as the positive result of something done.

An example of fruit is a newborn baby.
---
fruit
noun
pl. or

fruits
any plant product, as grain, flax, vegetables, etc.: usually used in pl.
the edible plant structure of a mature ovary of a flowering plant, usually eaten raw: many fruits which are not sweet, as tomatoes, beans, green peppers, etc., are popularly called vegetables
the quality of being fruity (sense ); fruitiness: said of wine
the result, product, or consequence of any action: fruit of hard work

Slang

a male homosexual: term of contempt or derision

Archaic

offspring; young

Bot.

the mature ovary of a flowering plant, together with its contents, and any closely connected parts, as the whole peach, pea pod, cucumber, etc.
Origin of fruit
Middle English from Old French from Classical Latin
fructus
, enjoyment, means of enjoyment, fruit, produce, profit from past participle of
frui
, to partake of, enjoy from Indo-European base an unverified form
bhr?g-
, fruit, to enjoy from source brook
to bear or cause to bear fruit
---
fruit
noun
pl.
fruit,
or
fruits
a. The ripened ovary or ovaries of a seed-bearing plant, together with accessory parts, containing the seeds and occurring in a wide variety of forms.

b. An edible, usually sweet and fleshy form of such a structure.

c. A part or an amount of such a plant product, served as food: fruit for dessert.

The fertile, often spore-bearing structure of a plant that does not bear seeds.
A plant crop or product: the fruits of the earth.
Result; outcome: the fruit of their labor.
Offspring; progeny.
A fruity aroma or flavor in a wine.
Offensive Slang Used as a disparaging term for a gay man.
intr. & tr.v.
fruit·ed, fruit·ing, fruits
To produce or cause to produce fruit.
Origin of fruit
Middle English
from
Old French
from
Latin
frūctus
enjoyment, fruit
from
past participle of
fruī
to enjoy
---
fruit

---