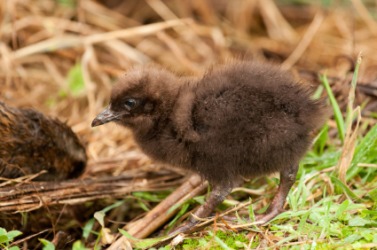 A baby kiwi.
---
Kiwi definition by Webster's New World
noun
pl.
kiwis
any of an order (Apterygiformes) of tailless New Zealand birds, with undeveloped wings, hairlike feathers, and a long, slender bill: it feeds chiefly on insects and worms
the brown, hairy, egg-sized fruit, with a sweet, edible, green pulp, of a vine (Actinidia chinensis) of a family (Actinidiaceae, order Theales) of dicotyledonous tropical trees, shrubs, and vines

Informal

a New Zealander
Origin: Maori: echoic of its cry
Webster's New World College Dictionary Copyright © 2010 by Wiley Publishing, Inc., Cleveland, Ohio. Used by arrangement with John Wiley & Sons, Inc.
---
Kiwi definition by American Heritage Dictionary
noun
pl.
ki·wis
Any of several flightless birds of the genus Apteryx native to New Zealand, having vestigial wings and a long slender bill. Also called apteryx.
Informal A New Zealander.
A kiwifruit.
Origin: Maori, imitative of the call of male kiwis. Sense 3, short for kiwifruit.
Kiwi
Variant of kiwi
noun
pl.
kiwis
any of an order (Apterygiformes) of tailless New Zealand birds, with undeveloped wings, hairlike feathers, and a long, slender bill: it feeds chiefly on insects and worms
the brown, hairy, egg-sized fruit, with a sweet, edible, green pulp, of a vine (Actinidia chinensis) of a family (Actinidiaceae, order Theales) of dicotyledonous tropical trees, shrubs, and vines

Informal

a New Zealander
Origin: Maori: echoic of its cry