vitamin

vi·ta·min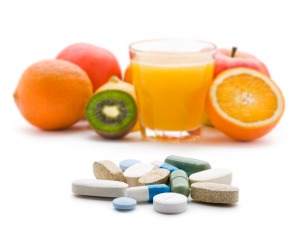 Vitamins are important for a healthy body.
noun
The definition of a vitamin is a substance that is necessary for the processes of the body.

Vitamin Purposes and Sources

Vitamin A - aids in growth, appetite, taste and eyesight. If you don't get enough vitamin A, you may find yourself experiencing night blindness. Some good sources of vitamin A are yellow fruits (lemons, bananas, plantains, pineapple, winter and summer squash, yellow peppers, corn, quince, star fruit), carrots, green leafy vegetables, milk, egg yolks, liver, and fish-liver oil.
Vitamin B1 - good for your nervous system, heart, muscles, digestion, and nerve tissues damaged by alcohol use. A vitamin B1 deficiency displays itself through a variety of symptoms including lack of concentration, confusion, exhaustion, loss of appetite, a tingling in your extremities, or difficulty maintaining your balance. To be sure you get enough vitamin B1, be sure to include some of the following in your diet: rice, yeast, whole meal products, peanuts, milk, pork, or liver.
Vitamin B2 - helps you grow. It also helps you grow healthy nails and hair, it helps you maintain healthy skin, sensitive lips and tongue, and eyesight. Additionally, vitamin B1 aids in the breakdown of protein, fat, and carbohydrates. You can suspect a vitamin B1 deficiency if you experience itchiness around your face – itchy eyes, nose, mouth, throat, or lips. Vitamin B2 is found in green leafy vegetables, fish, cheese, yeast, milk and liver.
Vitamin B6 - helps the body absorb carbohydrates and proteins. It also helps prevent nerve problems and skin conditions. If your skin is inflamed, it may be due to a lack of vitamin B6 in your body. If you are taking a contraceptive pill, you may require more vitamin B6 than other people. Get the vitamin B6 you need by eating whole grains, dried beans, bananas, fish, chicken, and pork.
Vitamin B12 - partially responsible for making red blood and forming your nerves. A vitamin B12 deficiency would result in dizziness, difficulty breathing, or fatigue. If you are a strict vegetarian or vegan, you are likely to be B12 deficient because it is found in milk, cheese, fish, liver, beef, and pork. If you don't eat these foods, you may want to consider taking a vitamin B12 supplement.
Vitamin C - provides defense for your immune system. It protects you from viruses and bacteria, reduces cholesterol, increases the lifespan of your cells, prevents scurvy, and helps heal wounds. If you don't get enough vitamin C, you may experience tiredness and bleeding gums, and you will notice that wounds take longer to heal. Get your daily dose of vitamin C by eating citrus fruits (oranges, lemons, limes, grapefruits, kiwi), berries, tomatoes, potatoes, peppers, cauliflower, and green leafy vegetables.
Vitamin D - for building strong teeth and bones. Vitamin D is found in dairy products, tuna, sardines, herring, salmon, and cod-liver oil, but getting vitamin D is the easiest thing in the world: With just 10 minutes of direct exposure to sunlight on the skin, your body naturally manufactures vitamin D.
Vitamin E - a powerful antioxidant that fights off toxins. Without it, your muscles weaken, and you may experience fertility problems. Get plenty of vitamin E by eating nuts, soy beans, vegetable oil, spinach, sprouts, broccoli, whole meal products, and eggs.
Vitamin K - helps the body transport calcium, so it is necessary for healthy bones and blood clotting. Excessive or uncontrollable bleeding may be signs of a vitamin K deficiency. The best source of vitamin K is leafy greens.
Folic Acid - especially important in the first trimester of pregnancy. During that time, it can help to prevent birth defects like cleft palate, cleft lip and spina bifida. It also aids in the production of red blood cells. If you notice that your tongue is particularly red, or that you are very tired, it may be due to a folic acid deficiency. Get it in whole wheat, rye, beans, green leafy vegetables, pumpkin, avocado, apricots, melon, carrots, yeast, eggs, and liver.

An example of a vitamin is a Vitamin C capsule that someone takes every morning.
---
vitamin
any of a number of unrelated, complex organic substances found variously in most foods, or sometimes synthesized in the body, and essential, in small amounts, for the regulation of the metabolism and normal growth and functioning of the body
a dose of such a substance or of a group of such substances, taken, as in a tablet, as a dietary supplement
Origin of vitamin
earlier
vitamine
from Ger: so named (1913) by C. Funk (1884-1967), Polish biochemist from Classical Latin
vita,
life (see vital) + German
amin,
amine: from the origin, originally mistaken idea that these substances all contain amino acids
---
vitamin
noun
Any of various fat-soluble or water-soluble organic substances that are essential in minute amounts for normal growth and activity of living organisms. They are synthesized by bacteria and plants and are obtained by animals chiefly in their diet.
A preparation containing one or more vitamins, often taken as a dietary supplement.
Origin of vitamin
Alteration of
vitamine
Latin
vīta
life
; see
gwei-
in Indo-European roots.
amine
(
so called because they were originally thought to be amines
)
Related Forms:
---
vitamin

Noun
(plural vitamins)
Any of a specific group of organic compounds essential in small quantities for healthy human growth, metabolism, development, and body function; found in minute amounts in plant and animal foods or sometimes produced synthetically; deficiencies of specific vitamins produce specific disorders.
Origin
1920, originally vitamine (1912), from Latin vÄ«ta ("life") (see vital) + amine (see amino acids). Vitamine coined by Polish biochemist Casimir Funk after the initial discovery of aberic acid (thiamine), when it was thought that all such nutrients would be amines. The term had become ubiquitous by the time it was discovered that vitamin C, among others, had no amine component. In 1920, British biochemist Jack Drummond proposed that the final -e be dropped to deemphasize the amine reference. The ending -in was acceptable because it was used for neutral substances of undefined composition. Drummond also introduced the lettering system of nomenclature (Vitamin A, B, C, etc.) at this same time.
---