yield

yield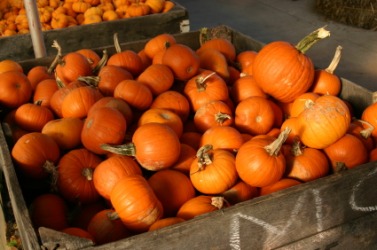 A large yield of pumpkins.
noun
The definition of a yield is the act of producing or the amount produced.

An example of yield is the total earnings from an investment.An example of yield is the interest rate earned on an investment.
verb
Yield is defined as to produce or give something to another.

An example of yield is an orchard producing a lot of fruit.
An example of yield is giving someone the right of way while driving.
---
yield
to produce; specif.,

to give or furnish as a natural process or as the result of cultivation: an orchard that yielded a good crop
to give in return; produce as a result, profit, etc.: an investment that yielded high profits

to give up under pressure; surrender: sometimes used reflexively with up: to yield oneself up to pleasure
to give; concede; grant: to yield the right of way, to yield a point

Archaic

to pay; recompense
Origin of yield
Middle English
yelden
from Old English
gieldan,
to pay, give, akin to German
gelten,
to be worth from Indo-European base an unverified form
ghel-t?,
(I) give, pay
to produce or bear: a mine that has yielded poorly
to give up; surrender; submit
to give way to physical force: the gate would not yield to their blows
to give place; lose precedence, leadership, etc.; specif.,: often with to

to let another, esp. a motorist, have the right of way
to give up willingly a right, position, privilege, etc.
the act of yielding, or producing
the amount yielded or produced; return on labor, investment, taxes, etc.; product

Finance

the ratio of the annual cash dividends or of the earnings per share of a stock to the market price

the total products actually obtained from given raw materials, usually expressed as a percentage of the amount theoretically obtainable
the force in kilotons or megatons of a nuclear or thermonuclear explosion
---
yield
verb
yield·ed, yield·ing, yields
verb
transitive
a. To give forth by a natural process, especially by cultivation: a field that yields many bushels of corn.

b. To furnish as return for effort or investment; be productive of: an investment that yields a high return.

a. To give over possession of, as in deference or defeat; surrender: yielded my seat to the speaker; yielded his sword.

b. To give up (an advantage, for example) to another; concede: yielded the right of way to the oncoming traffic.
verb
intransitive
a. To give forth a natural product; be productive.

b. To produce a return for effort or investment: bonds that yield well.

a. To give up, as in defeat; surrender or submit.

b. To give way to pressure or force: The door yielded to a gentle push.

c. To give way to argument, persuasion, influence, or entreaty.

d. To give up one's place, as to one that is superior: yielded to the chairperson.
noun
a. An amount yielded or produced; a product.

b. A profit obtained from an investment; a return.

The energy released by an explosion, especially by a nuclear explosion, expressed in units of weight (usually kilotons) of TNT required to produce an equivalent release.
Origin of yield
Middle English
yielden
from
Old English
geldan
to pay
Related Forms:
---
yield

---
yield - Computer Definition
(1) In semiconductor manufacturing, the percentage of chips in a finished wafer that pass all tests and function properly.
(2) To yield something is to produce a result.
---
yield - Investment & Finance Definition
The return that is earned on an investment. For example, a bond that pays 7 percent interest yields 7 percent, which also may be called the nominal yield. Current yield, however, gives the actual interest rate that will be earned. To obtain current yield, divide the amount of interest earned annually, using the bond's interest rate, by the purchase price. In contrast, the yield to maturity is the effective interest rate that is earned if the bond is held until it matures.
---
yield - Legal Definition
v
n
To let go of or forego something
The monetary return from an investment. 
---