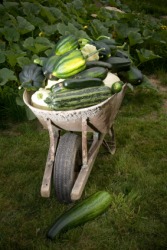 A harvest of different squash.
noun
The definition of harvest is the crop that has ripened in a season, the season when the crop is ripe or the amount of the crop that is ripe.

An example of harvest is a wheelbarrow full of zucchini.
An example of harvest is late September.
verb
Harvest is defined as to gather a crop.

An example of harvest is picking tomatoes off the vine.
---
harvest
the time of the year when matured grain, fruit, vegetables, etc. are reaped and gathered in
a season's yield of grain, fruit, etc. when gathered in or ready to be gathered in; crop
the gathering in of a crop
the outcome or consequence of any effort or series of events
Origin of harvest
Middle English
hervest
from Old English
hærfest
, akin to German
herbst
(OHG
herbist
) from Indo-European an unverified form
(s)kerp-
from base an unverified form
(s)ker-
, to cut from source shear, short, Classical Latin
caro
, flesh,
cernere
and Classical Greek
krinein
, to separate,
karpos
, fruit: basic sense "time of cutting"
to gather in (a crop, etc.)
to gather the crop from (a field)
to catch, shoot, trap, etc. (fish or game), usually in an intensive, systematic way, as for commercial purposes
to get (something) as the result of an action or effort
to remove (body parts) for transplantation
---
harvest
noun
The act or process of gathering a crop.

a. The crop that ripens or is gathered in a season.

b. The amount or measure of the crop gathered in a season.

c. The time or season of such gathering.

The result or consequence of an action: stuck with the harvest of a predecessor's decisions.
verb
har·vest·ed, har·vest·ing, har·vests
verb
transitive
a. To gather (a crop).

b. To take or kill (fish or deer, for example) for food, sport, or population control.

c. To extract from a culture or a living or recently deceased body, especially for transplantation: harvested bone marrow.

To gather a crop from (land, for example).
To receive or collect (energy): a turbine that harvests energy from tidal currents.
To receive (the benefits or consequences of an action). See Synonyms at reap.
verb
intransitive
To gather a crop.
Origin of harvest
Middle English
from
Old English
hærfest
; see
kerp-
in Indo-European roots.
Related Forms:
---
harvest

Noun
(plural harvests)
The season of gathering ripened crops; specifically, the time of reaping and gathering grain.
The process of harvesting, gathering the ripened crop.
The yield of harvesting, i.e. the gathered crops or fruits.

This year's cotton harvest was great but the corn harvest was disastrous.

(paganism) A modern pagan ceremony held on or around the autumn equinox, which is in the harvesting season.
Verb
(third-person singular simple present harvests, present participle harvesting, simple past and past participle harvested)
(intransitive) To be occupied bringing in a harvest

Harvesting is a stressing, thirsty occupation
Origin
From Middle English harvest, hervest, from Old English hærfest ("autumn, harvest-time; August"), from Proto-Germanic *harbistaz ("autumn, fall"), from Proto-Indo-European *kerp-, *skerp-; cognate with West Frisian hjerst, Dutch herfst, German Herbst, Middle Low German hervest ("autumn") (Dutch Low Saxon haarfst ("autumn")), Danish høst, also Latin carpere 'to seize', Greek καρπός (karpos, "fruit") and κείρω (keirō, "to cut off").
---