verb
To reap is defined as to cut, gather or harvest.

An example of to reap is a wheat farmer harvesting the season's crops.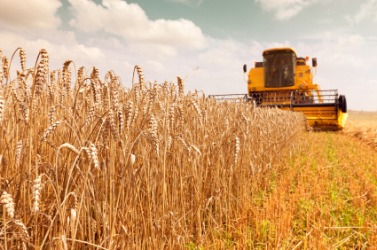 A farmer uses a harvester to reap the wheat.
---
reap definition by Webster's New World
transitive verb
to cut (grain) with a scythe, sickle, or reaping machine
to gather (a crop, harvest, etc.) by cutting
to cut or harvest grain from (a field)
to gain or obtain as the reward of action, conduct, work, etc.
Origin: Middle English repen ; from Old English ripan, akin to ripe ; from Indo-European an unverified form reib- ; from base an unverified form rei-, to tear, pull out, rend from source row, rive
intransitive verb
to reap a harvest, reward, etc.
Webster's New World College Dictionary Copyright © 2010 by Wiley Publishing, Inc., Cleveland, Ohio. Used by arrangement with John Wiley & Sons, Inc.
---
reap definition by American Heritage Dictionary
verb
reaped
,
reap·ing
,
reaps
verb
, transitive
To cut (grain or pulse) for harvest with a scythe, sickle, or reaper.
To harvest (a crop).
To harvest a crop from: reaping a field.
To obtain as a result of effort: She reaped large profits from her unique invention.
verb
, intransitive
To cut or harvest grain or pulse.
To obtain a return or reward.
Origin: Middle English repen, from Old English rīpan.