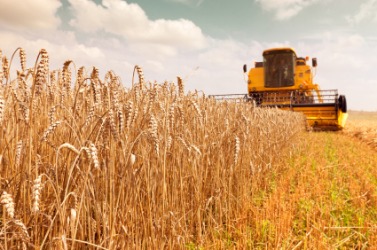 A farmer uses a harvester to reap the wheat.
verb
To reap is defined as to cut, gather or harvest.

An example of to reap is a wheat farmer harvesting the season's crops.
---
reap
to cut (grain) with a scythe, sickle, or reaping machine
to gather (a crop, harvest, etc.) by cutting
to cut or harvest grain from (a field)
to gain or obtain as the reward of action, conduct, work, etc.
Origin of reap
Middle English
repen
from Old English
ripan,
akin to ripe from Indo-European an unverified form
reib-
from base an unverified form
rei-,
to tear, pull out, rend from source row, rive
to reap a harvest, reward, etc.
---
reap
verb
reaped, reap·ing, reaps
verb
transitive
a. To cut (grain or pulse) for harvest with a scythe, sickle, or reaper.

b. To harvest (a crop).

c. To harvest a crop from: reaping a field.

To obtain as a result of effort: She reaped large profits from her unique invention.
verb
intransitive
To cut or harvest grain or pulse.
To obtain a return or reward.
Origin of reap
Middle English
repen
from
Old English
rīpan
---
reap

Verb
(third-person singular simple present reaps, present participle reaping, simple past and past participle reaped or reapt)
To gather; to obtain; to receive as a reward or harvest, or as the fruit of labor or of works, in a good or a bad sense.

to reap a benefit from exertions

(computer science) To terminate a child process that has previously exited, thereby removing it from the process table.

Until a child process is reaped, it may be listed in the process table as a zombie or defunct process.
Noun
(plural reaps)
A bundle of grain; a handful of grain laid down by the reaper as it is cut.
Origin
Middle English repen, from Old English ripan, reopan, from Proto-Germanic *rÄ«panÄ… (compare West Frisian repe, German reifsen "˜to snatch', Norwegian ripa "˜to score, scratch'), from Proto-Indo-European *h₁rep- "˜to snatch' (compare Latin rapere "˜to seize, plunder', Lithuanian aprépti 'to seize, embrace', Albanian rrjep "˜to peel, tear off', Ancient Greek ἐρέπτομαι (eréptomai, "I feed on")).
---