obtain

ob·tain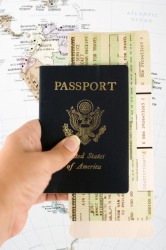 You must obtain a passport to travel abroad.
verb
The definition of obtain is to get or acquire.

To get a passport in order to travel abroad is an example of obtain.
---
obtain
to get possession of, esp. by some effort; procure

Archaic

to arrive at; reach or achieve
Origin of obtain
Middle English
obteinen
from Old French
obtenir
from Classical Latin
obtinere,
to obtain, prevail, maintain from
ob-
(see ob-) +
tenere,
to hold: see tenant
to be in force or in effect; prevail: a law that no longer obtains

Archaic

to succeed
---
obtain
verb
ob·tained, ob·tain·ing, ob·tains
verb
transitive
To succeed in gaining possession of as the result of planning or endeavor; acquire.
verb
intransitive
To be in existence, in effect, or customary: "standards, proprieties that no longer obtain" ( Meg Greenfield )
Archaic To succeed.
Origin of obtain
Middle English
obteinen
from
Old French
obtenir
from
Latin
obtinēre
ob-
intensive pref.
; see
ob-
.
tenēre
to hold
; see
ten-
in Indo-European roots.
Related Forms:
---
obtain

Verb
(third-person singular simple present obtains, present participle obtaining, simple past and past participle obtained)
To get hold of; to gain possession of, to procure; to acquire, in any way. [from 15th c.]
1701, Jonathan Swift, Contests and Dissentions in Athens and Rome:

This, though it failed at present, yet afterward obtained, and was a mighty step to the ruin of the commonwealth.

(intransitive) To exist or be the case; to hold true, be in force. [from 17th c.]
Origin
From Anglo-Norman obtenir, optiner et al., and Middle French obtenir, from Latin obtinÄ"re ("to gain, achieve, succeed, possess"), from ob- + tenÄ"re ("to hold").
---