corral

cor·ral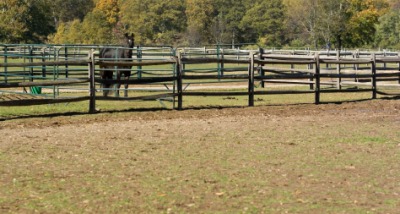 A horse in a corral.
noun
The definition of a corral is a pen for holding animals or a circle of wagons to made for safety.

An example of a corral is a round-shaped pen for walking horses.
An example of a corral is a group of wagons circled up for the night on the Oregon Trail.
verb
Corral is defined as to round up something or someone or to put into a pen.

An example of corral is for a cowboy to herd horses into a pen.
---
corral
an enclosure for holding or capturing horses, cattle, or other animals; pen
a defensive area made by drawing up covered wagons to form an enclosing circle
Origin of corral
Spanish from
corro,
a circle, ring from Classical Latin
currere,
to run: see current
transitive verb
-·ralled′

,

-·ral′ling
to drive into or confine within a corral
to surround or capture; round up
to arrange (wagons) in the form of a corral

Slang

to take possession of; lay hold of
---
corral
noun
An enclosure for confining livestock.
An enclosure formed by a circle of wagons for defense against attack during an encampment.
transitive verb
cor·ralled, cor·ral·ling, cor·rals
To drive into and hold in a corral.
To arrange (wagons) in a corral.
To take control or possession of.
To gather; garner: "difficult for congressional leadership to corral a majority of votes" ( Don J. Pease )
Origin of corral
Spanish
from
Vulgar Latin
currāle
enclosure for carts
from
Latin
currus
cart
from
currere
to run
; see
kers-
in Indo-European roots.
---
corral

Noun
(plural corrals)
An enclosure for livestock, especially a circular one.

We had a small corral out back where we kept our pet llama.

An enclosure or area to concentrate a dispersed group.

Please return the shopping carts to the corral.
Verb
(third-person singular simple present corrals, present participle corralling, simple past and past participle corralled)
To capture or round up.

The lawyer frantically tried to corral his notes as his briefcase fell open.
Between us, we managed to corral the puppy in the kitchen.

To place inside of a corral.

After we corralled the last steer, we headed off to the chuck wagon for dinner.

To make a circle of vehicles, as of wagons so as to form a corral.

The cattle drivers corralled their wagons for the night.
---