enclosure
[en klō′z̸hər, in-]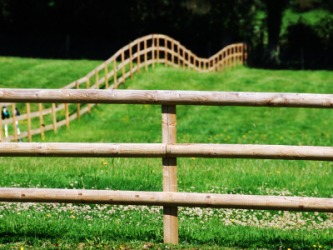 A wavy enclosure.
noun
The definition of an enclosure is something that keeps people or things inside.

An example of an enclosure is a fenced-in yard.
---
enclosure
noun
an enclosing or being enclosed
something that encloses, as a fence, wall, etc.
something enclosed; specif.,

an enclosed place or area
a document, money, etc. enclosed as with a letter

a boxlike container for a speaker (sense )
Origin of enclosure
Middle English and amp; OE: see enclose and amp; -ure
---
enclosure
noun
a. The act of enclosing.

b. The state of being enclosed.

Something enclosed: a business letter with a supplemental enclosure.
Something that encloses.
---
enclosure
Noun
(countable and uncountable, plural enclosures)
---