noun
The definition of bailey is a protective wall surrounding a castle, or the outdoor space created by the castle's protective walls.

In a movie where people are fighting from the top of a castle wall trying to keep out the approaching enemy, the outermost wall is an example of a bailey.
An example of a bailey is a courtyard inside the protection of the castle walls where the ladies of the community gather daily to converse.
YourDictionary definition and usage example. Copyright © 2013 by LoveToKnow Corp.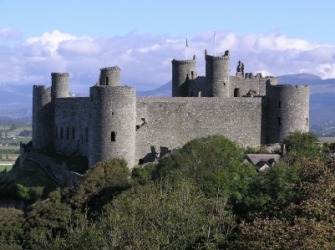 The bailey of Harlech Castle.
Licensed from iStockPhoto
---
noun
pl.
baileys
the outer wall or court of a medieval castle
Origin: Middle English baili, variant, variety of baile, bail
Bailey, Nathan(iel) died 1742; Eng. lexicographer
Webster's New World College Dictionary
Copyright © 2010 by Wiley Publishing, Inc., Cleveland, Ohio.
Used by arrangement with John Wiley & Sons, Inc.
---
noun
pl.
bai·leys
The outer wall of a castle.
The space enclosed by this outer wall.
Origin: Middle English bailli, from Old French baille, probably from Latin bacula, pl. of baculum, log, stick; see bacillus.
, Nathan or Nathaniel Died 1742.
British lexicographer whose Universal Etymological English Dictionary, first published in 1721, was used as a reference by Samuel Johnson and was the first English dictionary to treat etymology consistently.
The American Heritage® Dictionary of the English Language
, 4th edition Copyright © 2010 by Houghton Mifflin Harcourt Publishing Company. Published by Houghton Mifflin Harcourt Publishing Company. All rights reserved.