bailiff

bail·iff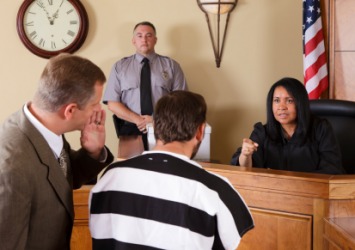 The man in the background with a tie is the bailiff.
noun
In the United States a bailiff is defined as a court officer in charge of relaying messages, helping people go where needed, and keeping general order of the courtroom. In England a bailiff is an official who collects taxes and serves legal documents.

An example of a bailiff in the U.S. is the uniformed officer in a courtroom who escorts the defendant in and helps them be seated in the proper place.
An example of a bailiff in England is the person hired to serve papers on a man who is behind on his taxes.
---
bailiff
a deputy sheriff who serves processes, etc.
a court officer who guards the jurors, maintains order in the courtroom, etc.
in England, an administrative official of a district, with power to collect taxes, serve as a magistrate, etc.

Chiefly Brit.

an overseer or steward of an estate
Origin of bailiff
Middle English
bailif
from Old French
bailif
from
baillier,
to govern, keep in custody: see bail
---
bailiff
noun
A court attendant entrusted with duties such as the maintenance of order in a courtroom during a trial.
An official who assists a British sheriff and who has the power to execute writs, processes, and arrests.
Chiefly British An overseer of an estate; a steward.
Origin of bailiff
Middle English
baillif
from
Old French
baillis
baillif-
overseer of an estate, steward
from
Medieval Latin
bāiulīvus
from
Latin
bāiulus
carrier
Related Forms:
---
bailiff

Noun
(plural bailiffs)
(law) A legal officer to whom some degree of authority, care or jurisdiction is committed.
(Channel Islands) The Chief Justice in each of the Channel Island bailiwicks of Jersey and Guernsey, also serving as president of the legislature and having ceremonial and executive functions.
Origin
Anglo-Norman and Old French bailif (plural bailis), Late Latin *bāiulivus. Compare Modern French bailli
---
bailiff - Legal Definition
n
A court officer charged with maintaining order in the courtroom, with taking care of the judge's and jury's needs, and, in criminal proceedings, with the custody of the defendant.
A sheriff's deputy or other officer who executes writs and serves processes and warrants of arrest.
One who oversees the administration of land, goods, and other property, including the collection of rent, for the owner.
---