prison

pris·on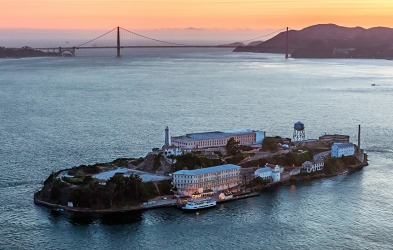 Alcatraz in San Francisco, CA is a tourist destination and no longer a prison.
noun
The definition of a prison is a building comprised of different cells or locked rooms designed to house prisoners who are sentenced to a correctional institution for breaking laws.

Alcatraz, an island in San Francisco Bay where convicted murderers and criminals were kept in cells, was an example of a prison.
---
prison
a place where persons are confined

a building, usually with cells, where convicted criminals, esp. those serving longer sentences, are confined
such a place for holding accused persons who are awaiting, or on, trial

the state or condition of being confined, restricted, or limited in any way: in the prison of his own desires
Origin of prison
Old French from Classical Latin from
prensio
, for
prehensio
, a taking from
prehendere
, to take: see prehensile
---
prison
noun
A place for the confinement and punishment of persons convicted of crimes, especially felonies.
A state of imprisonment or captivity: years spent in prison.
A place or condition of confinement or restriction: felt his job had been a prison.
transitive verb
pris·oned, pris·on·ing, pris·ons
To confine in or as if in a prison; imprison.
Origin of prison
Middle English
from
Old French
alteration
(
influenced by
Old French
pris
taken
)
of
Latin
prēnsiō
prēnsiōn-
a seizing
from
prehēnsiō
from
prehēnsus
past participle of
prehendere
to seize
; see
ghend-
in Indo-European roots.
---
prison

Noun
(countable and uncountable, plural prisons)
A place of long-term confinement for those convicted of serious crimes, or otherwise considered undesirable by the government.

The cold stone walls of the prison had stood for over a century.

(uncountable) Confinement in prison.

Prison was a harrowing experience for him.

(colloquial) Any restrictive environment, such as a harsh academy or home.

The academy was a prison for many of its students because of its strict teachers.
Verb
(third-person singular simple present prisons, present participle prisoning, simple past and past participle prisoned)
To imprison.
Origin
From Old French prison, from Latin prehensiōnem, accusative singular of prehensiō, from the verb prehendō.
---
prison - Legal Definition
---