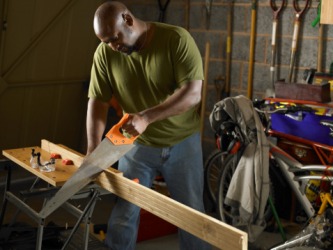 A man cutting a plank of wood with a saw.
adjective
The definition of wood is something made out of the layer right under a tree's bark.

An example of wood used as an adjective is the phrase "wood chair," which means a chair made out of the layer under the bark of a tree.
noun
Wood is defined as the layer below the bark on a tree or an item made with this material.

An example of wood is what is right under a tree's bark.
An example of wood is a wine barrel used to make wine.
---
wood
[usually pl., with sing. or pl. v.] a thick growth of trees; forest or grove
the hard, fibrous substance beneath the bark in the stems and branches of trees and shrubs; xylem
trees cut and prepared for use in making things; lumber or timber
firewood
something made of wood; specif.,

a cask or other wooden container for alcoholic liquor: whiskey aged in wood
[pl.] woodwind instruments, collectively

Golf

any of a set of numbered clubs, originally with wooden heads, having various lofts: the

number 1 wood

is usually called a driver (noun); the

number 2 wood

,

number 3 wood

, and

number 4 wood

are used for long, medium, and short fairway shots, respectively

Slang

an erection of the penis: considered mildly vulgar by some
Origin of wood
Middle English
wode
from Old English
wudu,
earlier
widu,
akin to Old High German
wito
from Indo-European base an unverified form
widhu-,
tree from source Old Irish
fid,
Welsh
gw?dd,
tree, forest
made of wood; wooden
for cutting, shaping, or holding wood
growing or living in woods: chiefly in comb.: wood anemone, wood-grouse
to plant or cover thickly with trees
knock on wood
a phrase used, often accompanying the touching of something wooden, as after an optimistic statement so as not to tempt fate
also
Chiefly Brit.
touch wood
Origin of wood
in ref. to the superstitious custom of touching wood, as to ward off evil
out of the woods
Informal
out of difficulty, danger, etc.
out of one's mind; insane
violently angry; enraged
Origin of wood
Middle English from Old English
wod,
akin to German
wut,
rage: see Woden
Wood
1860-1927; U.S. general & political administrator
---
wood
noun
a. The secondary xylem of trees and shrubs, lying beneath the bark and consisting largely of cellulose and lignin.

b. This tissue when cut and dried, used especially for building material and fuel.

often woods

a. A growth of trees and other plants usually covering a smaller area than a forest.

b. A forest.

An object made of wood, especially:

a. Music A woodwind.

b. Sports Any of a series of golf clubs used to hit long shots, having a bulbous head made of wood, metal, or graphite, and numbered one to five in order of increasing loft.
verb
wood·ed, wood·ing, woods
verb
transitive
To fuel with wood.
To cover with trees; forest.
verb
intransitive
To gather or be supplied with wood.
adjective
Made or consisting of wood; wooden.
Used or suitable for cutting, storing, or working with wood.
woods Living, growing, or present in forests: woods animals; a woods path.
Origin of wood
Middle English
wode
from
Old English
wudu
adjective
Archaic
Mentally deranged.
Origin of wood
Middle English
from
Old English
wōd
; see
wet-
1
in Indo-European roots.
---
wood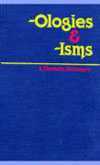 hylephobia
an intense dislike for wood.
hylomania
a mania for wood.
joinery
the skill, craft, or trade of a joiner or carpenter; woodworking. —
joiner
,
n.
lignification
the process of turning into wood or becoming woodlike.
marquetry
a form of decoration, often used in furniture-making, composed of inlays of wood veneers of different colors.
parquetry
mosaic work in wood, a form of marquetry, used mostly for floors and wainscoting.
poker painting
xylopyrography.
turnery
the process or craft of fashioning wood on a lathe.
xylology
a branch of dendrology that studies the structure of wood.
xylomancy
a form of divination involving small pieces of wood.
xylopyrography
the art or technique of producing a picture or design on a piece of wood by burning it with a heated, pointed instrument. Also called
poker painting
.
---
wood

Noun
(countable and uncountable, plural woods)
(uncountable) The substance making up the central part of the trunk and branches of a tree. Used as a material for construction, to manufacture various items, etc. or as fuel.

This table is made of wood.   There was lots of wood on the beach.

(countable) The wood of a particular species of tree.

Teak is much used for outdoor benches, but a number of other woods are also suitable, such as ipé, redwood, etc.

(countable) A forested or wooded area.

He got lost in the woods beyond Seattle.

Firewood.

We need more wood for the fire.

(countable, golf) A type of golf club, the head of which was traditionally made of wood.
(music) A woodwind instrument.
(uncountable, slang) An erection.

That girl at the strip club gave me wood.

(chess, uncountable, slang) Chess pieces.
Usage notes
In the sense of "a forested area", the singular generally refers to a discrete area of forest, while the plural is often used when a more vaguely defined area is meant.
Adjective
(not comparable)
Made of or with wood.
Verb
(third-person singular simple present woods, present participle wooding, simple past and past participle wooded)
To cover or plant with trees.
To supply with wood, or get supplies of wood for.

to wood a steamboat or a locomotive

To take or get a supply of wood.
Origin
From Middle English wode, from Old English wudu, widu ("wood, forest, grove; tree; timber"), from Proto-Germanic *widuz ("wood"), from Proto-Indo-European *widÊ°u-. Cognate with Old High German witu, Old Norse viðr (Danish and Swedish ved).
Origin
Middle English, from Old English wōd. See the full etymology at wode.
Noun
(plural woods)
(US, sometimes offensive, chiefly prison slang, of a person) A peckerwood.
---