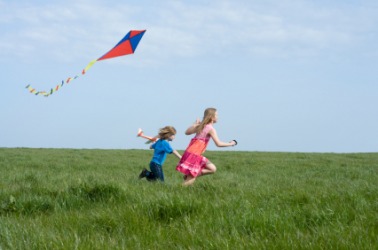 Two children flying a kite.
noun
The definition of a kite is a predatory bird with a forked tail and pointed wings that hunts for food while flying during the day.

An example of a kite is a large forked tail bird eating a dead animal in the road.

A kite is defined as a light weight, framed piece of fabric or paper attached to a roll of string that is flown in the air by wind currents.

An example of a kite is a brightly colored dragon being flown in the air on a breezy day in the park.
verb
Kite means to issue a check for more than the balance in the checking account.

An example of kite is to issue a check for $100 when there is only $25 in the account.
---
kite
any of various accipitrine birds with long, pointed wings and, usually, a forked tail: they prey esp. on insects, reptiles, and small mammals

Chiefly Brit.

a greedy, grasping person
a light frame, usually of wood, covered with paper, cloth, or plastic, to be flown in the wind at the end of a string
[pl.] the topmost sails of a ship, for use in a light breeze
a bad check or similar fictitious or worthless financial instrument used to raise money or maintain credit temporarily
Origin of kite
Middle English from Old English
cyta,
akin to Middle Low German
kuten,
to gossip from Indo-European echoic base an unverified form
gou-,
to scream from source Classical Greek
goan,
to moan
intransitive verb
kit′ed

,

kit′ing
Informal

to fly like a kite; soar
to move lightly and rapidly

to get money or credit by using bad checks, etc.
to issue (a bad check, etc.) as a kite
go fly a kite!
go away and stop being a bother!
---
kite
noun
a. A light framework covered with cloth, plastic, or paper, designed to be flown in the wind at the end of a long string or multiple lines, especially for recreation.

b. A parafoil flown in a similar manner for recreation.

c. A power kite.

A quadrilateral with two distinct pairs of congruent, adjacent sides. Also called deltoid .
Any of the light sails of a ship that are used only in a light wind.
Any of various graceful predatory birds of the family Accipitridae, having long pointed wings and often a forked tail.
An instance of check kiting.
verb
kit·ed, kit·ing, kites
verb
intransitive
To fly like a kite; soar or glide.
To get money or credit with a kite.
verb
transitive
To use (a check) in furtherance of a check kiting scheme.
Origin of kite
Middle English
bird of prey
from
Old English
céta
kite
In kite ABCD, AB = AD and CB = CD.
---
kite

---