bird

bird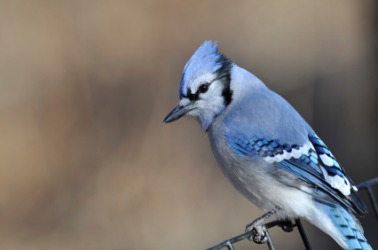 The blue jay is one type of bird.
noun
The definition of a bird is a warm blooded member of the Aves class, which has feathers, a beak, no teeth, wings and bears young in eggs.

An example of bird is a robin.
---
bird
any of a class (Aves) of warmblooded, two-legged, egg-laying vertebrates with feathers and wings
a small game bird
a clay pigeon in trapshooting
a shuttlecock

Informal

a person, esp. a mildly eccentric one

Slang

a sound of disapproval made by vibrating the lips

Slang

any rocket, satellite, aircraft, etc.

Brit., Slang

a young woman
Origin of bird
Middle English
bird, brid
from Old English
bridd,
bird, origin, originally , young bird
to shoot or catch birds
to engage in bird-watching
birds of a feather
people with the same characteristics or tastes
flip someone the bird
Slang
give someone the finger (see phrase under finger)
for the birds
Slang
ridiculous, foolish, worthless, useless, etc.
the birds and the bees
Informal
the basic facts about sexual matters

---
bird
noun
a. Any of various warm-blooded egg-laying feathered vertebrates of the class Aves, having forelimbs modified to form wings.

b. Such an animal hunted as game.

c. Such an animal, especially a chicken or turkey, used as food: put the bird in the oven.

See clay pigeon.
Sports See shuttlecock.
Slang A rocket, guided missile, satellite, or airplane.
Slang A person, especially one who is odd or remarkable: a sly old bird.
Chiefly British Slang A young woman.
Slang

a. A loud sound expressing disapproval; a raspberry.

b. Discharge from employment: lost a big sale and nearly got the bird.

An obscene gesture of anger, defiance, or derision made by pointing or jabbing the middle finger upward.
intransitive verb
bird·ed, bird·ing, birds
To observe and identify birds in their natural surroundings.
To trap, shoot, or catch birds.
Origin of bird
Middle English
from
Old English
brid
young bird
Related Forms:
---
bird

---