sail

sail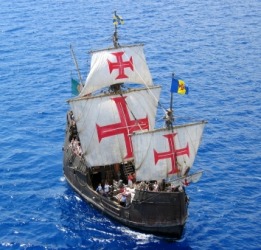 A replica of the Santa Maria sails on the sea.
noun
The definition of a sail is a strong sheet of fabric attached to a boat used to catch and use wind to move the boat forward in water.

An example of a sail is how Christopher Columbus' ship moved through the ocean.
verb
Sail is defined as to move, float or glide smoothly through water or air, or to move quickly.

An example of sail is a bird gliding on a headwind in the sky.
An example of sail is to finish a three hour task in one hour.
---
sail
any of the shaped sheets of canvas or other strong material spread to catch or deflect the wind, by means of which some vessels and some land vehicles are driven forward
sails collectively
a sailing vessel or vessels
a trip in a ship or boat, esp. one moved by sails
anything like a sail, as an arm of a windmill
Origin of sail
Middle English
seil
, sail from Old English
segl
, akin to German
segel
, probably ultimately from Indo-European base an unverified form
sek-
, to cut from source Classical Latin
secare
, to cut,
segmentum
, segment
to be moved forward by means of a sail or sails
to be moved forward on water by mechanical means such as a propeller

to move upon or travel by water: said of a vessel or its passengers
to begin a trip by water
to manage a sailboat, as in racing or cruising
to glide, float, or move steadily through the air
to move smoothly and with dignity, like a ship in full sail

Informal

to move or proceed quickly

Informal

to begin vigorously; throw oneself (into) with energy

Informal

to attack, criticize, or reprimand someone severely: with into
Origin of sail
ME
seilen
< OE
seglian
< the n.
to move through or upon (a body of water) in a boat or ship
to manage or navigate (a boat or ship)
to throw or otherwise propel (something) in a way that causes it to glide, float, or move steadily through the air
make sail
set sail (see phrase below)
sail against the wind
to sail a course that slants slightly away from the true direction of the wind; sail closehauled
to work under difficulties or against direct opposition

also

sail near (to) the wind
sail close to the wind
to sail as nearly as possible straight against the wind
to be economical in one's affairs
to border on indecency, foolhardiness, etc.
set sail
to hoist the sails in preparation for departure
to start out on a voyage by water
take in sail
to lower sails, as in order to reduce the area of sail set
---
sail
noun
Nautical

a. A piece of fabric sewn together and fitted to the spars and rigging of a vessel so as to convert the force of the wind into forward motion of the vessel.

b. The sails of a ship or boat.

c. A narrow fairwater supporting the bridge of a submarine.

pl. sail, or sails Nautical A sailing vessel.
Nautical A trip or voyage in a sailing craft.
Something, such as the blade of a windmill, that resembles a sail in form or function.
verb
sailed, sail·ing, sails
verb
intransitive
Nautical

a. To move across the surface of water, especially by means of a sailing vessel.

b. To travel by water in a vessel.

c. To start out on such a voyage or journey: Tomorrow we sail for the islands.

d. To operate a sailing craft, especially for sport.

To move along or progress smoothly or effortlessly: sailed into the room five minutes late; sailed through the exam; sailed through the red light.
To move along through the air: The ball sailed into the stands.
verb
transitive
Nautical
To navigate or manage (a vessel).
To voyage upon or across: sail the Pacific.
Phrasal Verbs:
sail into
To attack or criticize vigorously:
sailed into the workmen for the shoddy job they were doing.
Origin of sail
Middle English
seil
from
Old English
segl
Sail into
from
obsolete
sail
to attack
from
Middle English
sailen
short for
assailen
; see
assail
.
---
sail

Noun
(plural sails)
(nautical) A piece of fabric attached to a boat and arranged such that it causes the wind to drive the boat along. The sail may be attached to the boat via a combination of mast, spars and ropes.
(uncountable) The power harnessed by a sail or sails, or the use this power for travel or transport.
A trip in a boat, especially a sailboat.

Let's go for a sail.

(dated) A sailing vessel; a vessel of any kind; a craft. Plural sail.

Twenty sail were in sight.

A tower-like structure found on the dorsal (topside) surface of submarines.
The floating organ of siphonophores, such as the Portuguese man-of-war.
(fishing) A sailfish.

We caught three sails today.

Anything resembling a sail, such as a wing.
Origin
From Old English seġel, from Proto-Germanic *seglą (compare earlier Middle Low German segel and later Low German sail), cognate with Dutch zeil, German Segel, Danish sejl), from pre-Germanic/Celtic sek-lo (compare Welsh hwyl, Irish séol), from Proto-Indo-European *sek- 'to cut'. More at saw.
Verb
(third-person singular simple present sails, present participle sailing, simple past and past participle sailed)
To be impelled or driven forward by the action of wind upon sails, as a ship on water; to be impelled on a body of water by steam or other power.
To move through or on the water; to swim, as a fish or a waterfowl.
To ride in a boat, especially a sailboat.
To set sail; to begin a voyage.

We sail for Australia tomorrow.

To move briskly and gracefully through the air.
To move briskly.
Origin
Old English seġlian, cognate to earlier Middle Low German segelen and its descendant Low German sailen.
---