verb
Glide is defined as to move easily or flow smoothly.

An example of glide is a sail boat flowing over the water.
An example of glide is slowly spreading peanut butter on a piece of toast.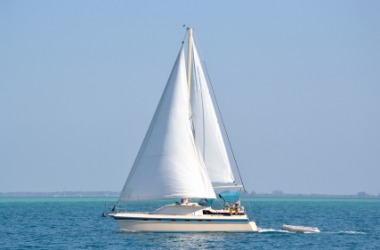 A sailboat glides across the water.
---
glide definition by Webster's New World
intransitive verb
glided, gliding
to flow or move smoothly and easily, as in skating
to move by or pass gradually and almost unnoticed, as time

Aeron.

to fly in a glider
to descend with little or no engine power, using airflow to control lift

Music, Phonet.

to make a glide
Origin: Middle English gliden ; from Old English glidan, akin to German gleiten, probably ; from Indo-European an unverified form ghlei-dh (; from base an unverified form ĝhel-, to shine from source glass, glow)
transitive verb
to cause to glide
noun
the act of gliding; smooth, easy flow or movement
☆ a small disk or ball, as of nylon, attached to the underside of furniture legs, etc. to allow easy sliding

Music, loosely

a slur, portamento, or the like

Phonet.

an intermediate sound produced in the transition of the speech organs from the position for one sound to that for another
the nonsyllabic vowel in a diphthong
Webster's New World College Dictionary Copyright © 2010 by Wiley Publishing, Inc., Cleveland, Ohio. Used by arrangement with John Wiley & Sons, Inc.
---
glide definition by American Heritage Dictionary
verb
glid·ed
,
glid·ing
,
glides
verb
, intransitive
To move in a smooth, effortless manner: a submarine gliding through the water. See Synonyms at slide.
To move silently and furtively.
To occur or pass imperceptibly.
To fly without propulsion. Used of an aircraft.
Music To blend one tone into the next; slur.
Linguistics To articulate a glide in speech.
verb
, transitive
To cause to move or pass smoothly, silently, or imperceptibly.
noun
The act of gliding.
Music A slur.
Linguistics

a. The transitional sound produced by passing from the articulatory position of one speech sound to that of another.
Origin: Middle English gliden, from Old English glīdan; see ghel-2 in Indo-European roots.
The American Heritage® Dictionary of the English Language, 4th edition Copyright © 2010 by Houghton Mifflin Harcourt Publishing Company. Published by Houghton Mifflin Harcourt Publishing Company. All rights reserved.
---
glide - Computer Definition