wing

wing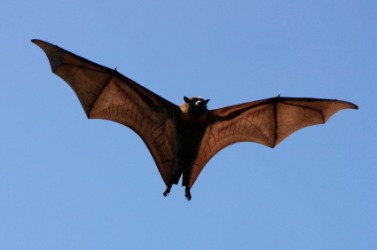 A bat spreads his wings.
noun
The definition of a wing is a forelimb of a flying animal, something used as a wing, an extension of a building, or a group of people who are an extension of an entire group of people.

An example of a wing is the body part a bird uses for flying.
An example of a wing is the extension on the side of an airplane that aids in flight.
An example of a wing is a extension built on the side of a building.
An example of a wing is a group of extreme liberals.
verb
Wing is defined as to provide with structures like a bird's feathered forelimbs, or to make fly, or to wound an arm or wing.

An example of wing is to add wings onto something so that it can fly.
An example of wing is to throw a paper airplane through the air.
An example of wing is to shoot someone in the arm.
---
wing
either of the two feathered forelimbs of a bird, fully developed for flying (as in most birds), or insufficiently developed for flight and used for balance in running, etc. (as in chickens or ostriches) or for swimming (as in penguins or some ducks)
either of the paired organs of flight of a bat, the lifting surface of which is formed by the membranous skin connecting the long, modified digits
either of the paired organs of flight of an insect, light membranous structures that are lateral outgrowths of the thorax supported by a network of veins
any of various winglike structures used by certain animals for gliding movements, as the patagium of flying squirrels or the enlarged pectoral fins of flyingfish

in art, mythology, etc., either of a pair of winglike structures associated with or attributed to gods, angels, demons, dragons, etc., or used as a symbol of speed or the like
something used as or like a wing; esp.,

a (or the) main lateral airfoil of an airplane
either of the inflatable pouches of a pair of water wings

something resembling a wing in position or in relation to the main part; esp.,

a part, extension, or annex of a building, with reference to its location at a side of the main part or its specialized use: the east wing, the surgical wing of a hospital
an outlying area, as of an estate
either of the two side extensions of the back of a wing chair
either part of a double door, screen, etc.
any of the sidepieces used in stage scenery; also, either side of the stage out of sight of the audience
any winglike anatomical or botanical part, as on some leafstalks or seeds; ala
a vane, as of a windmill

Brit.

fender (sense )

a group of persons having a winglike relation to another group or to the entire body; specif.,

the section of an army, fleet, etc. to the right (or left) of the center
a section or faction, as of a political party, with reference to its radicalism or conservatism
an organization affiliated with or subsidiary to a parent organization

in hockey and certain other goal games, a position played forward and right (or left) of center
the player at such a position

any of various units in an air force; specif., in the U.S. Air Force, a unit smaller than a division and larger than an air group
[pl.] the insignia worn by pilot and crew of an aircraft, esp. a military aircraft

the act of flying, or a means or manner of flying: now chiefly in give wing to and take wing (see phrases below)
anything represented as flying or soaring, or as carrying one to soaring heights of rapture, joy, etc.: on wings of song

Slang

a person's arm

Baseball

a pitcher's throwing arm
Origin of wing
Middle English
winge
,
weng
from Old Norse
vaengr
(for Indo-European base see wind): the word replaced Old English
fether
, wing, feather
to provide with wings

to cause to fly or speed as on wings: to wing an arrow at a target
to make (one's way) by flying
to pass through or over by or as if by flying

to transport by or as by flight
to wound, as with a bullet, in the wing, arm, etc.
to go swiftly on or as on wings; fly
clip someone's wings
to impede or put an end to someone's ability to act effectively
give wing to
to enable to fly or soar on or as if on wings
on the wing
flying, or while in flight
in motion or while moving or traveling
spread one's wings
to begin to make use of and develop confidence in one's abilities, esp. when regarded as leading to self-sufficiency or self-fulfillment
take wing
to take flight; fly away
to become joyous, jubilant, or enraptured
under one's wing
under one's protection, patronage, etc.
waiting in the wings
Origin of wing
see wing, noun)
standing offstage and ready to make an entrance
ready to enter a situation, be brought to public attention, or undertake a role, position, etc.
wing it
Informal
to act, speak, etc. with little or no planning or preparation; improvise
---
wing
noun
a. One of a pair of movable appendages used for flying, as the feather-covered modified forelimb of a bird or the skin-covered modified forelimb of a bat or pterosaur.

b. One of the one or two pairs of membranous structures used for flying that extend from the thorax of an insect.

c. A structure or part used by an animal for gliding through the air, as the folds of skin of a flying squirrel or the enlarged pectoral fins of a flying fish.

d. wings An outspread pair of stylized bird's wings worn as insignia by qualified pilots or air crew members.

An airfoil whose principal function is providing lift, especially either of two such airfoils symmetrically positioned on each side of the fuselage of an aircraft.
Botany

a. A thin or membranous extension, as of the fruit of a maple or ash, the seed of a pine, or the branches of a winged elm.

b. One of the lateral petals of the flower of certain plants in the pea family, such as the sweet pea.

Something that resembles a wing in appearance or function, especially:

a. The vane of a weathervane.

b. The sail of a ship.

c. A folding section, as of a double door or of a movable partition.

d. Either of the two side projections on the back of a wing chair.

e. A flat of theatrical scenery projecting onto the stage from the side.

f. Chiefly British The fender of a motor vehicle.

a. A structure that forms an extended part of or is attached to a main structure: the east wing of the school; the children's wing of the hospital.

b. Either of the unseen backstage areas on the sides of the stage of a proscenium theater.

a. The act or manner of flying.

b. A means of flight or rapid movement: Fear lent wings to his feet.

a. A group affiliated with or subordinate to an older or larger organization.

b. Either of two groups with opposing views within a larger group; a faction.

c. A section of a party, legislature, or community holding distinct, especially dissenting, political views: the conservative wing.

a. Either the left or right flank of an army or a naval fleet.

b. An air force unit larger than a group but smaller than a numbered air force or, formerly, than a division.

Sports

a. Either of the forward positions near the sides of the playing area, especially in hockey.

b. A player who plays this position.
verb
winged, wing·ing, wings
verb
intransitive
To move swiftly through the air or on wings: birds winging south for the winter.
verb
transitive
a. To pass over or through with wings: birds winging the air.

b. To make (one's way) through the air or on wings: birds winging their way north.

c. To carry or transport by flying: The plane winged the troops back home.

a. To furnish with wings: a mythological horse that is winged.

b. To feather (an arrow).

To throw or propel (a ball, for example) through the air.
To strike or wound in a wing or an appendage: winged me with a snowball.
To furnish with side or subordinate extensions, as a building or an altarpiece.
To say or do (something) without preparation or forethought; improvise: decided to wing his remarks to reporters.
Origin of wing
Middle English
wenge, winge
of Scandinavian origin
; see
wē-
in Indo-European roots.
---
wing

Noun
(plural wings)
(slang) Human arm.
Part of an airplane that produces the lift for rising into the air.
(botany) Any membranaceous expansion, such as that along the sides of certain stems, or of a fruit of the kind called samara.
(botany) Either of the two side petals of a papilionaceous flower.
A side shoot of a tree or plant; a branch growing up by the side of another.
Passage by flying; flight.

to take wing

Motive or instrument of flight; means of flight or of rapid motion.
A part of something that is lesser in size than the main body, such as an extension from the main building.
Anything that agitates the air as a wing does, or is put in winglike motion by the action of the air, such as a fan or vane for winnowing grain, the vane or sail of a windmill, etc.
An ornament worn on the shoulder; a small epaulet or shoulder knot.
A fraction of a political movement. Usually implies a position apart from the mainstream center position.
An organizational grouping in a military aviation service:

(UK) A unit of command consisting of two or more squadrons and itself being a sub-unit of a group or station.
(US) A larger formation of two or more groups, which in turn control two or more squadrons.

(UK) A panel of a car which encloses the wheel area, especially the front wheels.
(nautical) That part of the hold or orlop of a vessel which is nearest the sides. In a fleet, one of the extremities when the ships are drawn up in line, or when forming the two sides of a triangle.

(sports) A position in several field games on either side of the field.
(sports) A player occupying such a position, also called a winger
(botany) A flattened extension of a tridimensional plant organ.
(typography, informal, rare) = háček
Verb
(third-person singular simple present wings, present participle winging, simple past and past participle winged)
To injure slightly (as with a gunshot), especially in the arm.
(intransitive) To fly.
(of a building) To add a wing (extra part) to.
To act or speak extemporaneously; to improvise; to wing it.
To throw.
Origin
From Old Norse vængr.
---
wing - Computer Definition
(WINdows Games) A programming interface (API) that lets Windows application developers access the video frame buffer directly. It allows game programs to be written to run as fast in Windows as they do under DOS.
---