tear

tear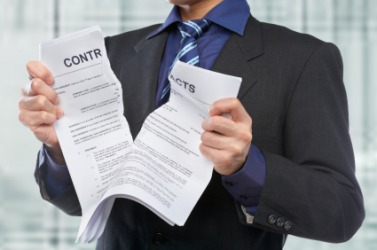 A man tears some papers.
noun
The definition of a tear is the result of something being pulled or ripped apart.

An example of tear is a separation in the seam of a dress.

Tear is defined as a salty liquid produced by the eye gland used to lubricate the eyes, wash away irritants or express intense emotion.

An example of tear is what comes out of the eyes when someone is crying.
verb
Tear means to pull or force something up or apart or rip into two or more pieces.

An example of tear is pulling pages out of a magazine.
An example of tear is a pair of jeans being split in two.
---
tear
transitive verb
tore

,

torn

,

tear′ing
to pull apart or separate into pieces by force; rip or rend (cloth, paper, etc.)
to make or cause by tearing or puncturing: to tear a hole in a dress
to wound by tearing; lacerate: skin torn and bruised
to force apart or divide into factions; disrupt; split: ranks torn by dissension
to divide with doubt, uncertainty, etc.; agitate; torment: a mind torn between duty and desire
to remove by or as by tearing, pulling, etc.: with up, out, away, off, etc.: to tear a plant up by its roots, to tear oneself away
Origin of tear
Middle English
teren
from Old English
teran,
to rend, akin to German
zehren,
to destroy, consume from Indo-European base an unverified form
der-,
to skin, split from source drab, derma
to be torn
to move violently or with speed; dash
the act of tearing
the result of a tearing; torn place; rent
a rushing pace; great hurry
see wear and tear

Slang

a carousal; spree
tear at
to make violent, pulling motions at in an attempt to tear or remove
tear down
to wreck or demolish (a building, etc.)
to dismantle or take apart: to tear down an engine
to cause to disintegrate
to controvert or disprove (an argument, etc.) point by point
tear into
Informal
to attack impetuously and, often, devastatingly
tear it
Slang
to be that which brings about final failure, defeat, frustration, loss of patience, etc.:
that tears it!
a drop of the salty fluid secreted by the lacrimal gland to lubricate the eyeball, kill bacteria, etc.: in humans, tears may flow for emotional reasons due to the tightening of muscles near the glands
anything resembling this, as a drop of transparent gum; tearlike mass
[pl.] sorrow; grief
Origin of tear
Middle English
tere
from Old English
t?ar, teagor,
akin to German
zähre
from Indo-European an unverified form
da?ru,
tear from source Old Latin
dacrima
(from source Classical Latin
lacrima
), Classical Greek
dakryon
---
tear
verb
tore, torn, tear·ing, tears
verb
transitive
a. To pull apart or into pieces by force; rend.

b. To cause to be pulled apart unintentionally, as by accident: tore my pants on the barbed wire.

c. To lacerate (the skin, for example).

To make (an opening) in something by pulling it apart or by accident: I tore a hole in my stocking.
To separate forcefully; wrench: tore the pipe from the wall.
To divide or disrupt: was torn between opposing choices; a country that was torn by strife.
verb
intransitive
To become torn: The fabric does not tear easily.
To move with heedless speed; rush headlong: tore off down the road; tore along the avenue.
noun
The act of tearing.
The result of tearing; a rip or rent: The shirt has a small tear.
A great rush; a hurry.
Slang A carousal; a spree.
Phrasal Verbs:
tear around
Informal
To move about in excited, often angry haste.To lead a wild life.
tear at
To pull at or attack violently:
The dog tore at the meat.
To distress greatly:
Their plight tore at his heart.
tear away
To remove (oneself, for example) unwillingly or reluctantly.
tear down
To demolish:
tear down old tenements.
To take apart; disassemble:
tear down an engine.
To vilify or denigrate.
tear into
To attack with great energy:
tore into his opponent.
To begin to do or eat something with great energy:
tore into the meal.
tear off
Informal
To produce hurriedly and casually:
tearing off article after news article.
tear up
To tear to pieces.To make an opening in:
tore up the sidewalk to add a drain.
Origin of tear
Middle English
teren
from
Old English
teran
; see
der-
in Indo-European roots.
Related Forms:
noun
a. A drop of the clear salty liquid that is secreted by the lachrymal gland of the eye to lubricate the surface between the eyeball and eyelid and to wash away irritants.

b. tears A profusion of this liquid spilling from the eyes and wetting the cheeks, especially as an expression of emotion.

c. tears The act of weeping: criticism that left me in tears.

A drop of a liquid or hardened fluid.
intransitive verb
teared, tear·ing, tears
To become filled with tears: The strong wind caused my eyes to tear.
Phrasal Verbs:
tear up
To have tears well in the eyes:
At the funeral, the mourners began to tear up.
To cause to have tears well in the eyes:
By the movie's end, the whole audience was teared up.
Origin of tear
Middle English
ter
from
Old English
tēar
; see
dakru-
in Indo-European roots.
---
tear

---