rage

rage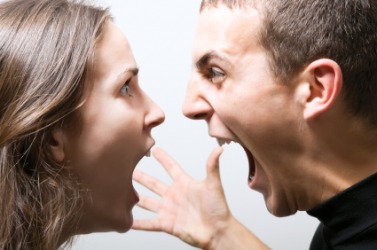 Two people expressing rage.
noun
Rage is an intense, uncontrolled anger or a great force.

An example of rage is someone screaming at the top of their lungs, holding a bat and charging toward another person.
An example of rage is the force of a tornado.
---
rage
Obs.

insanity
a furious, uncontrolled anger; esp., a brief spell of raving fury
a great force, violence, or intensity, as of the wind
strong emotion, enthusiasm, or desire
Origin of rage
Old French from Late Latin
rabia,
rage, madness; akin to
rabere,
to rage: see rabid
intransitive verb
raged

,

rag′ing
to show violent anger in action or speech
to be forceful, violent, uncontrolled, etc.: a raging sea, a raging fever
to spread unchecked, as a disease
(all) the rage
anything arousing widespread enthusiasm or interest; craze; fad
---
rage
noun
a.

Violent, explosive anger. See Synonyms at

anger

.

b. A fit of anger.

Furious intensity, as of a storm or disease.
A burning desire; a passion: a rage for innovation in music.
A current, eagerly adopted fashion; a fad or craze: when torn jeans were all the rage.
intransitive verb
raged, rag·ing, rag·es
To speak or act in violent anger: raged at the mindless bureaucracy.
To move with great violence or intensity: A storm raged through the mountains.
To spread or prevail forcefully: The plague raged for months.
Origin of rage
Middle English
from
Old French
from
Vulgar Latin
rabia
from
Latin
rabiēs
from
rabere
to be mad
---
rage

Noun
(plural rages)
Thomas Macaulay (1800-1859)

He appeased the rage of hunger with some scraps of broken meat.

Nathaniel Hawthorne (1804-1864)

convulsed with a rage of grief
Verb
(third-person singular simple present rages, present participle raging, simple past and past participle raged)
(intransitive) To act or speak in heightened anger.
(intransitive) To move with great violence, as a storm etc.
---
rage - Computer Definition
---