pout
pout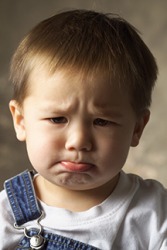 A pouting baby
verb
Pout is defined as to protude the lips or outwardly express disapproval by sulking.

An example of pout is a child sitting with their arms folded, looking down at the ground after not getting their way.
---
pout
to thrust out the lips as in sullenness or displeasure
to sulk
to protrude: said of the lips
Origin of pout
Middle English
pouten
, ultimately ; from Indo-European base an unverified form
bu-
, to swell
the act of pouting
a fit of sulking
pl. or

pouts
any of several fishes with a stout body, as an eelpout
Origin of pout
Old English
-pute:
for Indo-European base see pout
---
pout
verb
pout·ed
,
pout·ing
,
pouts
verb
, intransitive
To exhibit displeasure or disappointment; sulk.
To protrude the lips in an expression of displeasure or sulkiness.
To project or protrude: The child's lips pouted.
verb
, transitive
To push out or protrude (the lips).
To utter or express with a pout.
noun
A protrusion of the lips, especially as an expression of sullen discontent.
often pouts A fit of petulant sulkiness: sat around in the house in a pout; had the pouts.
Origin of pout
Middle English
pouten
,
perhaps of Scandinavian origin
.
Related Forms:
noun
pl.
pout
or
pouts
Any of various freshwater or marine fishes having a large head, especially an eelpout or a bullhead.
Origin of pout
Middle English
*poute
, from Old English
-p&umacron;te
(as in
&aemac;lep&umacron;te
,
eelpout
).
---
pout
Verb
(third-person singular simple present pouts, present participle pouting, simple past and past participle pouted)
(intransitive) To push out one's lips.
(intransitive) To be or pretend to be ill-tempered; to sulk.
To say while pouting.
Origin
Middle English pouten, probably from Scandinavian (compare Norwegian pute ("pillow, cushion"), Swedish dial. puta ("to be puffed out"), Danish pude ("pillow, cushion")), from Proto-Germanic *pÅ«to ("swollen") (compare English eelpout, Dutch puit, Low German puddig ("inflated")), from Proto-Indo-European *bu- ("to swell") (compare Sanskrit [script?] (budbuda, "bubble")).
Origin
From Old English pūte as in aelepūte, from Indo-European root beu having a meaning associated with the notion "to swell".
Noun
(plural pouts)
Alternative form of poult.
Verb
(third-person singular simple present pouts, present participle pouting, simple past and past participle pouted)
---