noun
The definition of a frown is a facial expression indicating displeasure by drawing the brows together and turning the lips downward.

An example of frown is the face you make when you are unhappy about something.
verb
To frown is defined as to disapprove of something or to make a face indicating disapproval by turning down the corners of your mouth and furrowing your brow.

An example of frown is when drinking is discouraged.
An example of frown is making an expression of displeasure.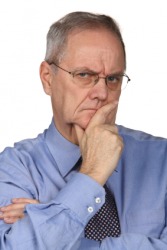 A man frowns.
---
frown definition by Webster's New World
intransitive verb
to contract the brows, as in displeasure or concentrated thought
to look with displeasure or disapproval (on or upon)
Origin: Middle English frounen ; from Old French frognier ; from froigne, sullen face ; from Gaulish an unverified form frogna, nostrils, akin to Old Irish srón, nose
transitive verb
Now Rare

to silence, subdue, etc. with a disapproving look
to express (disapproval, disgust, etc.) by frowning
noun
a contracting of the brows in sternness, thought, etc.
any expression of displeasure or disapproval
Webster's New World College Dictionary Copyright © 2010 by Wiley Publishing, Inc., Cleveland, Ohio. Used by arrangement with John Wiley & Sons, Inc.
---
frown definition by American Heritage Dictionary
verb
frowned
,
frown·ing
,
frowns
verb
, intransitive
To wrinkle the brow, as in thought or displeasure.
To regard something with disapproval or distaste: frowned on the use of so much salt in the food.
verb
, transitive
To express (disapproval, for example) by wrinkling the brow.
noun
A wrinkling of the brow in thought or displeasure; a scowl.
Origin: Middle English frounen, from Old French froigner, to turn up one's nose, from frogne, grimace, of Celtic origin.
Related Forms: