scowl

scowl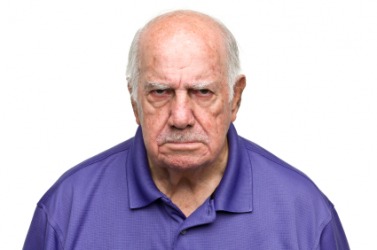 A scowling man.
noun
The definition of a scowl is a gloomy or intimidating look.

An example of scowl is what an angry clown may wear on his face in a haunted house.
verb
Scowl is defined as to wrinkle the eyebrows to show disapproval or anger.

An example of scowl is for a father to look at his daughter disapprovingly after she tells a blatant lie.
---
scowl
to contract the eyebrows and lower the corners of the mouth in showing displeasure; look angry, irritated, or sullen
to have a threatening look; lower
Origin of scowl
Middle English
scoulen
, probably from Scand, as in Danish
skule
, in same sense, akin to Middle High German
schulen
, to be hidden, lurk from Indo-European an unverified form
(s)kulo-
, concealment from base an unverified form
(s)keu-
, to cover
to affect, influence, or express with a scowl or scowls
the act or expression of scowling; angry frown
a threatening aspect
---
scowl
verb
scowled, scowl·ing, scowls
verb
intransitive
To wrinkle or contract the brow as an expression of anger or disapproval. See Synonyms at
frown
.
verb
transitive
To express (displeasure, for example) with a frowning facial expression.
noun
A look of anger or frowning disapproval.
Origin of scowl
Middle English
scoulen
probably of Scandinavian origin
Related Forms:
---
scowl

Verb
(third-person singular simple present scowls, present participle scowling, simple past and past participle scowled)
(intransitive) To wrinkle the brows, as in frowning or displeasure; to put on a frowning look; to look sour, sullen, severe, or angry.
(intransitive, by extension) To look gloomy, dark, or threatening; to lower.
(intransitive) To look at or repel with a scowl or a frown.

to scowl a rival into submission

To express by a scowl.

to scowl defiance
---