noun
The definition of a grimace is a face indicating displeasure, usually made by twisting up your facial features into an unpleasant expression.

An example of a grimace is the way your face looks right after you bite into a lemon.
verb
To grimace is defined as to make an unpleasant fact or twist up your facial features, often to indicate displeasure.

An example of grimace is when you make a face upon biting into a sour lemon.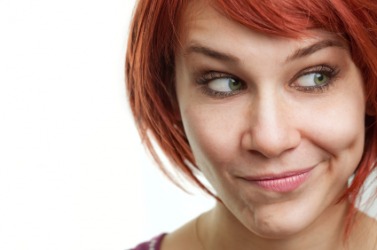 A young woman grimaces.
---
grimace definition by Webster's New World
noun
a twisting or distortion of the face, as in expressing pain, contempt, disgust, etc., or a wry look as in seeking to amuse
Origin: French altered (with pejorative suffix) ; from Old French grimuche, probably ; from Frankish an unverified form grima, a mask, akin to Old English grima: see grime
Webster's New World College Dictionary Copyright © 2010 by Wiley Publishing, Inc., Cleveland, Ohio. Used by arrangement with John Wiley & Sons, Inc.
---
grimace definition by American Heritage Dictionary
noun
A sharp contortion of the face expressive of pain, contempt, or disgust.
intransitive verb
grim·aced
,
grim·ac·ing
,
grim·ac·es
To make a sharp contortion of the face.
Origin: French, from Old French grimache, alteration of grimuche, probably from Frankish *grīma, mask.
Related Forms: