grimace

grim·ace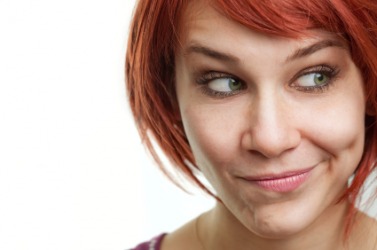 A young woman grimaces.
noun
The definition of a grimace is a face indicating displeasure, usually made by twisting up your facial features into an unpleasant expression.

An example of a grimace is the way your face looks right after you bite into a lemon.
verb
To grimace is defined as to make an unpleasant fact or twist up your facial features, often to indicate displeasure.

An example of grimace is when you make a face upon biting into a sour lemon.
---
grimace
a twisting or distortion of the face, as in expressing pain, contempt, disgust, etc., or a wry look as in seeking to amuse
Origin of grimace
Fr, altered (with pejorative suffix) from Old French
grimuche
, probably from Frankish an unverified form
grima
, a mask, akin to Old English
grima
: see grime
intransitive verb
-·aced

,

-·ac·ing
to make grimaces
---
grimace
noun
A sharp contortion of the face expressive of pain, contempt, or disgust.
intransitive verb
grim·aced, grim·ac·ing, grim·ac·es
To make a sharp contortion of the face.
Origin of grimace
French
from
Old French
grimache
alteration of
grimuche
probably from
Frankish
grīma
mask
Related Forms:
---
grimace

Noun
(plural grimaces)
A distortion of the countenance, whether habitual, from affectation, or momentary and occasional, to express some feeling, as contempt, disapprobation, complacency, etc.; a smirk; a made-up face.
Verb
(third-person singular simple present grimaces, present participle grimacing, simple past and past participle grimaced)
To make grimaces; to distort one's face; to make faces.
Origin
From French grimace, from Middle French grimace, from Old French grimace, grimuche, from grime ("mask"), from Old Frankish *grīma ("mask"), from Proto-Germanic *grīmô ("mask, helmet"), from Proto-Indo-European *gʰer- ("to stroke, rub"). Cognate with Old English grīma ("mask, visor, helmet, spectre, apparition"). More at grime.
See also:
grimacé
---