face
face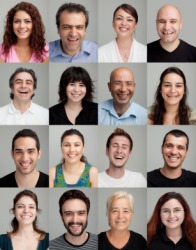 A lot of different faces.
noun
Face is defined as the front part of the head and the front surface of anything.

An example of face is the combination of eyes, ears, mouth and nose.
An example of face is the part of the clock that displays the time.
verb
The definition of face is to turn toward someone or something, or to acknowledge and confront.

An example of face is for students to look at the teacher.
An example of face is for a person to deal with his greatest fear.
---
face
the front of the head from the top of the forehead to the bottom of the chin, and from ear to ear; visage; countenance
the expression of the countenance
a surface of a thing; esp.,

the front, upper, or outer surface or part
any one of the surfaces of a geometric figure or crystal

the side or surface that is marked, as of a clock, playing card, domino, etc., or that is finished, as of fabric, leather, etc.
the appearance; outward aspect; semblance
facial makeup; cosmetics: used chiefly in the phrases

do one's face

and

put one's face on

dignity; self-respect; prestige

used chiefly in the phrase lose (or save) face

the topography (of an area)
the functional or striking surface (of a tool, golf club, etc.)
what is shown by the language of a document, without explanation or addition

Informal

effrontery; audacity

Mining

the end of a tunnel, drift, etc., where work is being done

Printing

the type surface on which a letter is cut; printing part of a letter or plate
the full selection of type of a certain design
Origin of face
Middle English ; from Old French ; from Vulgar Latin
facia
; from Classical Latin
facies
, the face, appearance ; from base of
facere
, do
faced

,

fac′ing
to turn, or have the face or front turned, toward: the building faces the square
to meet or confront squarely or face to face
to confront with boldness, courage, etc.
to acknowledge and accept (facts, the truth, etc.)
to put another material on the surface of
to level and smooth the surface of (esp. a block of stone)
to turn (a card, etc.) with the face up

Mil.

to cause (a formation of soldiers) to pivot by giving the appropriate command

Sewing

to apply a facing to (a collar, edge, etc.)
Origin of face
ME
facen
< the
n
.
to turn, or have the face turned, toward a specified thing or person, or in a specified direction

Mil.

to pivot in a specified direction: usually in the form of a command: right face!
be (or get) in someone's face
⌂
Slang
to behave in a confrontational or annoyingly direct or persistent manner toward someone
face down
with the face or front turned downward: to slip and land face down in a pile of leaves
to disconcert or overcome by a confident, bold manner
face off
Hockey

to start or resume play with a face-off

Informal

to confront one another as opponents or adversaries: candidates face off in an election

Informal

to take a position opposing: with against or with: Congress faced off against the President
face to face
confronting each other
very near to; in the presence of: followed by with
face up
with the face or front turned upward; on its or one's back: to deal playing cards face up
face up to
to face with courage; confront and resist
to realize and be ready to meet (a condition, fact, etc.)
in someone's face
(in a manner that is) direct and confrontational: the door was slammed in my face
in the face of
in the presence of
in spite of
make a face
to distort the face, esp. in a way expressing contempt, distaste, humor, etc.
also
Chiefly Brit.
pull a face
on the face of it
to all appearances; apparently
pull a long face
to look sad, glum, disapproving, etc.
put a bold face on
to seem bold or confident about
set one's face against
to be determinedly against; disapprove of; resist
show one's face
to come and be seen; appear
to someone's face
in someone's presence; openly and without fear
---
face
noun
a. The surface of the front of the head from the top of the forehead to the base of the chin and from ear to ear.

b. A person: We saw many new faces on the first day of classes.

A person's countenance: a happy face.
A contorted facial expression; a grimace: made a face at the prospect of eating lemons.
Facial cosmetics: put one's face on.
Outward appearance: the modern face of the city.

a. Value or standing in the eyes of others; prestige: did their best to save face after they were shown to be wrong; did not want to lose face by being unable to live up to his reputation.

b. Self-assurance; confidence: The team managed to maintain a firm face even in times of great adversity.

Effrontery; impudence: had the face to question my judgment.
The most significant or prominent surface of an object, especially:

a. The surface presented to view; the front.

b. A façade.

c. Outer surface: the face of the earth.

d. A marked side: the face of a clock; the face of a playing card.

e. The right side, as of fabric.

f. An exposed, often precipitous surface of rock.

A planar surface of a geometric solid.
Any of the surfaces of a rock or crystal.
The end, as of a mine or tunnel, at which work is advancing.
The appearance and geologic surface features of an area of land; topography.
Printing

a. A typeface or range of typefaces.

b. The raised printing surface of a piece of type.
verb
faced
,
fac·ing
,
fac·es
verb
, transitive
To occupy a position with the face toward: stood and faced the audience.
To front on: a window that faces the south.

a. To meet or confront with self-assurance: How can I face your parents when they know that I've let them down?

b. To acknowledge and accept or deal with: had to face the facts; must be willing to face our problems. See Synonyms at defy.

a. To be certain to encounter; have in store: An unskilled youth faces a difficult life.

b. To bring or to be brought face to face with: "The prospect of military conflict &ellipsis; faced us with nightmarish choices" (Henry A. Kissinger).

To cause (troops) to change direction by giving a command.
Games To turn (a playing card) so that the face is up.
To furnish with a surface or cover of a different material: bronze that is faced with gold foil.
To line or trim the edge of, especially with contrasting material: face a hem with lace.
To treat the surface of so as to smooth.
verb
, intransitive
To be turned or placed with the front toward a specified direction.
To turn the face in a specified direction.
Phrasal Verbs:
face down
To attain mastery over or overcome by confronting in a resolute, determined manner:
face down an opponent in a debate; faced the enemy down.
face off
Sports
To start play in ice hockey, lacrosse, and other games by releasing the puck or ball between two opposing players.
face up
To confront an unpleasant situation with resolution and assurance:
had to face up or get out; finally faced up to the problem.
Origin of face
Middle English, from Old French, from Vulgar Latin
*facia
, from Latin
faci&emacron;s
; see
dh&emacron;-
in Indo-European roots.
Related Forms:
---
face
---
face - Legal Definition
n
The front part of a document or thing, or the part with writing on it; the appearance or tendency of a thing, for example, the face of the evidence.
---