bind

bind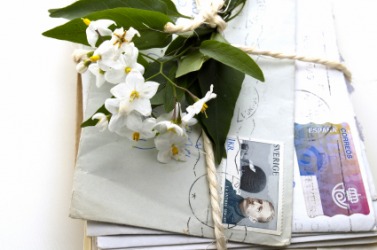 String has been used to bind these items together.
verb
To bind is defined as to tie or stick together or hold down.

An example of to bind is using string to tie a bundle of cut flowers together.
An example of to bind is a shared secret forcing a group of people together.
---
bind
transitive verb
bound

,

bind′ing
to tie together; make fast or tight, as with a rope or band
to hold or restrain as if tied or tied down: bound by convention
to gird or encircle with a belt, girdle, etc.; wrap or fasten around
to bandage: often with up
to make stick together; make cohere
to tighten the bowels of; constipate
to strengthen, secure, or ornament the edges of by a band, as of tape
to fasten together the printed pages of (a book) and enclose them within a protective cover
to secure or make firm (a bargain, contract, etc.)
to obligate by duty, love, etc.
to compel, as by oath, legal restraint, or contract
to make an apprentice of; indenture: often with out or over
to unite or hold, as by a feeling of loyalty or love
Origin of bind
Middle English
binden
from Old English
bindan
from Indo-European base an unverified form
bhendh-
from source band, bend, Sanskrit
badhn?ti,
(he) binds, Gothic
bindan
to do the act of binding
to be or become tight, hard, or stiff
to be constricting or restricting
to stick together
to be obligatory or binding in force
anything that binds

Informal

a difficult or restrictive situation; jam: to be in a bind

Music

tie (noun)
bind over
to put under legal bond to appear at a specified time and place, as before a law court
---
bind
verb
bound, bind·ing, binds
verb
transitive
a. To tie or secure, as with a rope or cord.

b. To hold or restrain by tying with rope or bonds: bound the prisoner.

a. To fasten or wrap by encircling, as with a belt or ribbon: a dress bound with a sash.

b. To bandage: bound up their wounds.

a. To compel, constrain, or unite: bound by a deep sense of duty; bound by a common interest in sports.

b. To make certain or irrevocable: bind the deal with a down payment.

c. Law To place under legal obligation.

d. To apprentice or indenture: was bound out as a servant.

Chemistry To combine with, form a chemical bond with, or be taken up by, as an enzyme with its substrate.

a. To cause to cohere or stick together in a mass: Bind the dry ingredients with milk and eggs.

b. To constipate.

To enclose and fasten (the pages of a book or other printed material) between covers.
To furnish with an edge or border for protection, reinforcement, or ornamentation.
verb
intransitive
To tie up or fasten something.
To stick or become stuck: applied a lubricant to keep the moving parts from binding.
To be uncomfortably tight or restricting, as clothes.
To become compact or solid; cohere.
To be compelling, constraining, or unifying: moved to her home town because of the ties that bind.
Chemistry To combine chemically or form a chemical bond.
noun
a. The act of binding.

b. The state of being bound.

c. Something that binds.

d. A place where something binds: a bind halfway up the seam of the skirt.

Informal A difficult, restrictive, or unresolvable situation: found themselves in a bind when their car broke down.
Music A tie, slur, or brace.
Phrasal Verbs:
bind off
To cast off in knitting.
bind over
Law
To hold under legal obligation, as to bind over a party accused of crime to appear before a grand jury or in a particular court.
Origin of bind
Middle English
binden
from
Old English
bindan
; see
bhendh-
in Indo-European roots.
---
bind

Verb
(third-person singular simple present binds, present participle binding, simple past bound, past participle bound or rarely bounden)
(intransitive) To tie; to confine by any ligature.
(intransitive) To cohere or stick together in a mass.

Just to make the cheese more binding

(intransitive) To be restrained from motion, or from customary or natural action, as by friction.

I wish I knew why the sewing machine binds up after I use it for a while.

(intransitive) To exert a binding or restraining influence.

These are the ties that bind.

To tie or fasten tightly together, with a cord, band, ligature, chain, etc.

to bind grain in bundles; to bind a prisoner.

To confine, restrain, or hold by physical force or influence of any kind.

Gravity binds the planets to the sun.
Frost binds the earth.

To couple.
(figuratively) To oblige, restrain, or hold, by authority, law, duty, promise, vow, affection, or other social tie.

to bind the conscience; to bind by kindness; bound by affection; commerce binds nations to each other.

(law) To put (a person) under definite legal obligations, especially, under the obligation of a bond or covenant.
(law) To place under legal obligation to serve.

to bind an apprentice; bound out to service

To protect or strengthen by applying a band or binding, as the edge of a carpet or garment.
(archaic) To make fast (a thing) about or upon something, as by tying; to encircle with something.

to bind a belt about one
to bind a compress upon a wound.

(archaic) To cover, as with a bandage.

to bind up a wound.

(archaic) To prevent or restrain from customary or natural action.

certain drugs bind the bowels.

To put together in a cover, as of books.

The three novels were bound together.

(computing) To associate an identifier with a value; to associate a variable name, method name, etc. with the content of a storage location.
Origin
From Middle English binden, from Old English bindan, from Proto-Germanic *bindaną (compare West Frisian bine, Dutch binden, Low German binnen, German binden, Danish binde), from Proto-Indo-European *bʰendʰ- ("to tie") (compare Welsh benn ("cart"), Latin offendīx ("knot, band"), Lithuanian beñdras ("partner"), Albanian bend ("servant,henchman"), bind ("to convince, persuade, tame"), Ancient Greek πεῖσμα (peisma, "cable, rope"), Sanskrit बध्नाति (badhnāti)).
Noun
(plural binds)
That which binds or ties.
A troublesome situation; a problem; a predicament or quandary.
Any twining or climbing plant or stem, especially a hop vine; a bine.
(chess) A strong grip or stranglehold on a position that is difficult for the opponent to break.

the Maróczy Bind
Origin
From the above verb.
---
bind - Computer Definition

---

An implementation of the Domain Name System (DNS) protocols that is open source and provides a redistributable reference implementation of the key components of the DNS. These components include a Domain Name System resolver library, a Domain Name System server, and a number of tools to verify the correct operation of the DNS server.
Note that the BIND DNS server is utilized on multitudes of name-serving computers on the Internet. In fact, BIND is touted as the most widely used software on the Internet to provide Domain Name System services and is known for its ability to provide a robust and stable architecture, on top of which an enterprise's naming architecture can be constructed. Moreover, the Domain Name System resolver library gives the standard APIs, a set of thousands of detailed functions and subroutines that programmers can use to translate domain names and Internet addresses. The resolver library was meant to be linked with applications needing name service.
See Also: Domain Name System (DNS); Internet.
ISC Inc. ISC Inc. Internet Systems Consortium: ISC BIND. [Online, 2004.] ISC Inc. Website. http://www.isc.org/index.pl?/sw/bind/; Spolsky, J. How Microsoft Lost the API War. [Online, June 13, 2004.] Joel Spolsky Website. http://joel.spolsky.com/.
---
(1) To link, join, connect or associate one element with another as in the following examples.
(2) To link subroutines in a program. Applications are often built with the help of many standard routines or object classes from a library, and large programs may be built as several program modules. Binding puts the pieces together. Symbolic tags are used by the programmer in the program to interface to the routine. At binding time, the tags are converted into actual memory addresses or disk locations. See linker and bindings.
(3) To link any element, tag, identifier or mnemonic with another so that the two are associated in some manner. For example, key bindings link a physical keyboard key to a numeric code that is generated when pressed. See alias and map.
(4) (BIND) (Berkeley Internet Name Domain) The most widely used DNS server software. The Internet Systems Consortium (ISC) offers a reference implementation of BIND, which is available at www.isc.org. See DNS.
(5) In a communications network, to establish a software connection between one protocol and another. Data flows from the application to the transport protocol to the network protocol to the data link protocol and then onto the network. Binding the protocols creates the internal pathway. See OSI model.
---
bind - Legal Definition
v
To subject to a legal obligation.
---