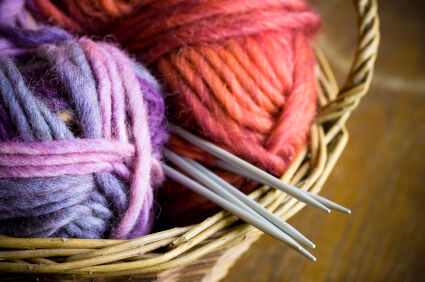 There's nothing better than curling up with some knitting needles and soft thread! Whether you're a beginner or a knitting natural, learning the lingo of knitting will help you to keep up to pace with the current knitting designs. Check out this list of common knitting abbreviations to help you through your next throw, sweater, or pair of socks.
Knitting Abbreviations: A–F
When you're reading a new pattern, the lists of abbreviations and stitches can be daunting. This first set of abbreviations teaches you about basics like casting on, binding off, and contrasting colors.
alt – alternate
approx – approximately
beg – beginning
bet – between
BO – bind off
byo – backward yarn over
CA – color A
CB – color B
CC – contrasting color
cdd – centered double decrease
ch – chain
cn – cable needle
CO – cast on
cont – continue
cross 2 L – cross two stitches to the left
cross 2 R – cross two stitches to the right
dec – decrease
DK – double knitting weight yarn
dpn – double pointed needles
EON – end of needle
EOR – end of row
FC – front cross
fl – front loop
foll – follow
Knitting Abbreviations: G–L
Ready for the next steps in your creation? Learn how to identify garter stitches, knitwise directions, and left-needs instructions in the next set of abbreviations.
g st – garter stitch
grp – group
inc – increase
k – knit
k tbl – knit stitch through back loop
k1B – knit stitch in row below
kfb – knit 1 into front and back of stitch
kll – knit left loop
krl – knit right loop
k2tog – knit two stitches together
k2tog tbl – knit two stitches together, through the back loops
ksp – knit 1 stitch; slip the stitch; pass second stitch over first stitch; return stitch to right needle
kwise – knitwise
LC – left cross
LH – left hand
lp – loop
LT – left twist
Knitting Abbreviations: M–R
This section introduces purlwise directions and how to pass over specific needles. If you're ready for a challenge, try to make one left or right purlwise as well.
m – marker
M1 – make one
M1A – make one away
M1L – make one left
M1p – make one purlwise
M1lp – make one left purlwise
M1rp – make one right purlwise
M1R – make one right
M1T – make one towards
MB – make bobble
MC – main color
p – purl
p tbl – pull through back loop
p–b – purl stitch in the row below
p–wise – purl wise
p1 f&b or pfb – purl the front of the stitch, then purl the back of the same stitch
p2tog – pull together
p2tog tbl – pull two together through the back loops
patt – pattern
pm – place marker
pnso – pass next stitch over
pop – popcorn stitch
prev – previous
psso – pass the slipped stitch over
p2sso – pass 2 slipped stitches over
pu – pick up stitches
pwise – purlwise
RC – right cross
rem – remaining
rep – repeat
RH – right hand
rib – ribbing
rnd – round
RS – right side
RT – right twist
Knitting Abbreviations: S–Z
You'll learn a lot about slip stitches, skipping stitches, and yarn over needle instructions with the final section of knitting pattern abbreviations. Feel free to reference the list as necessary when working through your next pattern!
sk –skip
sk2p – slip one, knot two, pass slipped stitch over
SKP – slit, knit, pass
sl – slip a stitch
sl st – slip stitches
sl1k – slip a stitch knitwise
sl1p – slip a stitch purlwise
sm – slip marker
sp – space
ss – slip stitch
ssk – slip, slip, knit slipped stitches together
ssp – slip, slip, purl
SSPP2 – slip 2 stitches knitwise; return the stitches to left needle and slip them through back loops; purl 1, pass 2 slipped stitches over purl stitch; centered double decrease
sssk – slip, slip, slip, knit three slipped stitches together
st – stitch
st st – stockinette stitch
tbl – through back loop
tfl – through front loop
tog – together
won – wool over needle
wrn – wool round needle
WS – wrong side
w&t – wrap and turn
wyib – with yarn in back
wyif – with yard in front
yb – yarn to the back
yf – yarn forward
yfon – yarn forward and over needle
yfrn – yard forward and round needle
yfwd – yarn forward
yo – yarn over
yo2 – yarn over twice
yon – yarn over needle
yrn – yarn round needle
Beyond the huge list of knitting pattern abbreviations, you may also encounter other symbols in your knitting journeys. A few of the most common include the following:
[] – repeat instructions between brackets as much as required
() – repeat instructions in parentheses as required
* – repeat instructions following the asterisk as needed
** – repeat instructions between asterisks as needed
Glossary of Knitting Terms
Have you ever encountered a knitting term that you didn't know? Brush up on your knitting knowledge with a list of common terms that you may encounter in a pattern. These terms include:
Bind Off: When you're ready to finish the last row, knit two stitches to bind off. Then, slip the first stitch over the second. Repeat until there is only one stitch left. Cut off the remaining yarn and tuck it into the last stitch.
Cast On: Casting on means to create the first stitch of your piece. You make a loop over the left-hand needle and put the right-hand needle through the loop. Then, pass the yarn over and under the right-hand needle and through the loop to the left-hand needle.
Crochet: Although crochet also uses yarn, crocheters use a hooked needle to create more tightly–crafted designs.
Gauge: The gauge indicates how many stitches and rows there are per inch.
Eyelet: This is a decorative edging for knitting projects with small holes.
Knitting Needles: The three types of knitting needles include pin-style needles, double-pointed needles, and circular needles.
Knit Stitch: With this most basic knitting stitch, place the left-hand needle in front of the right-hand needle to transfer a stitch.
Moss Stitch: This is when you switch between a knit stitch and a purl stitch in a row.
Popcorn Stitch: This refers to a bobble on the surface of a knitted project.
Purl Stitch: With this backward stitch, you place the right-hand needle in front of the left-hand needle.
Rib Stitch: With a rib stitch, you alternate stitches between rows to create a contrast.
Skein: This is a collapsible coil of yarn.
Slip Stitch: Transfer the stitch between needles without adding yarn in a slip stitch.
Slip Knot: This is an adjustable loop used for casting on.
Knitting isn't the only way to make a beautiful piece of textile art. Crochet is a different way to use your crafting skills and learn new techniques at the same time. Check out a list of common crochet abbreviations that can guide you through your next project.