When looking at a pattern to create something using the needlecraft known as crochet, you are bound to run into a lot of crochet abbreviations. Abbreviations are meant to make patterns more succinct and easier to follow by standardizing the methodology of crocheting. However, if you don't know all of these important shorthand terms, they can be awfully confusing.
The next time you're working with a new crochet pattern or you're browsing through your favorite crochet website or magazine, be sure to keep this list of abbreviations handy, and you'll commit them to memory in no time at all.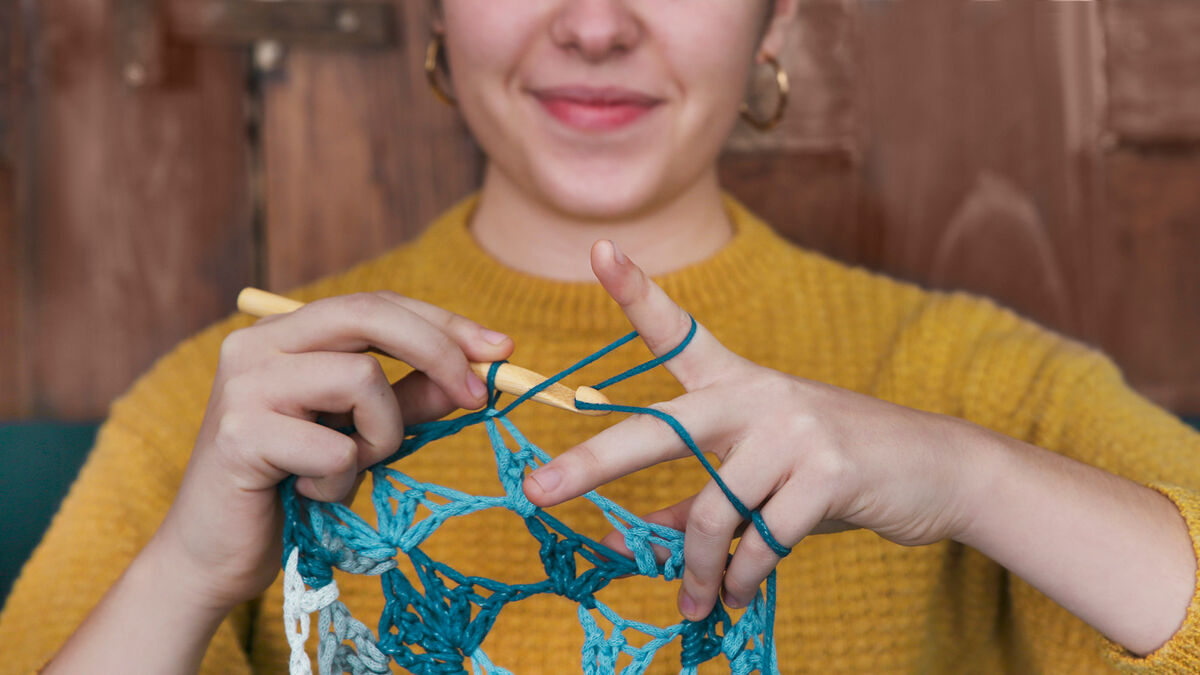 Commonly Used Crochet Abbreviations
Listed below are several of the most common crochet abbreviations used by amateurs, enthusiasts, and professionals alike. They're organized here in alphabetical order for your convenience.
alt - alternate
approx - approximately
beg - beginning
bet - between
cc - contrasting color
ch-sp - chain space
cl - cluster
cont - continue
dec - decrease
FO - finished object
foll - following
FP - front post
inc - increase
incl - include / including / inclusive
lp - loop
MC - main color
p - picot
pat - pattern
pc - popcorn
prev - previous
rem - remaining
rep - repeat
rnd - round
rnds - rounds
RS - right side
sh - shell
sk - skip
sm - slip marker
sp - space
sps - spaces
tog - together
WS - wrong side
yd - yard
yo - yarn over
Abbreviations for Stitches and Techniques
When it comes to crocheting, it's all about the stitch. Explore different crochet shorthand for the various types of stitches and techniques.
BL - back loop, block, or bobble, depending on the context
BLO - back loop only
bo - bobble
BP - back post
BPdc - back post double crochet
BPdtr - back post double treble crochet
BPhdc - back post half double crochet
BPsc - back post single crochet
BPtr - back post treble crochet
ch - chain stitch
dc - double crochet
dc2tog - double crochet two stitches together
dtr - double treble crochet
edc - extended double crochet
Ehdc - extended half double crochet
Esc - extended single crochet
etr - extended triple crochet
FL - front loop
FLO - front loop only
half dc - half double crochet
hdc - half double crochet
hdc2tog - half double crochet two stitches together
pc - popcorn stitch
ps - puff stitch
sc - single crochet
sc2tog - single crochet 2 stitches together
sl st - slip stitch
st - stitch
sts - stitches
tbl - through back loop
tch - turning chain
tr - treble crochet / triple crochet
trtr - triple treble crochet
yoh - yarn over hook
Afghan or Tunisian Crochet Abbreviations
Afghan (Tunisian) crocheting has a bunch of different patterns out there. However, these stitches require a specific technique, which is similar to knitting. Check out the Tunisian crochet abbreviations.
etss - extended Tunisian simple stitch
FwP - forward pass
RetP- return pass
tbo - Tunisian bobble
tbs - Tunisian bar stitch
tdc - Tunisian double crochet
tfs - Tunisian full stitch
thdc - Tunisian half double crochet
tks - Tunisian knit stitch
tps - Tunisian purl stitch
trs - Tunisian reverse stitch
tsc - Tunisian single crochet
tss - Tunisian simple stitch
tslst - Tunisian slip stitch
ttc - Tunisian treble crochet
ttw - Tunisian twisted
Measurement Crochet Abbreviations
When it comes to weighing and measuring yarn, these simple measurement abbr. come in handy.
cm - centimeter
g - gram
in - inch
m - marker or meter
mm - millimeter
oz - ounce
yd - yard
More About Crochet Abbreviations
Some catalogues, designs and patterns use their own abbreviation system to tell you how to complete a craft. Be careful to check and see if the pattern is using non-standard abbreviations. Otherwise, you could be caught in quite the loop, and it may be difficult to needle your way back out again.
Usually a list of the correct crochet abbreviations can be found at the end of a pattern or at the back of a book. Be sure to check there before starting on any new crafting project. If you are looking for more information about abbreviations used in crochet patterns, be sure to check out a crocheting book that gives a more comprehensive list of crochet abbreviations and their meanings. Keep your love of creation going by looking at knitting abbreviations.