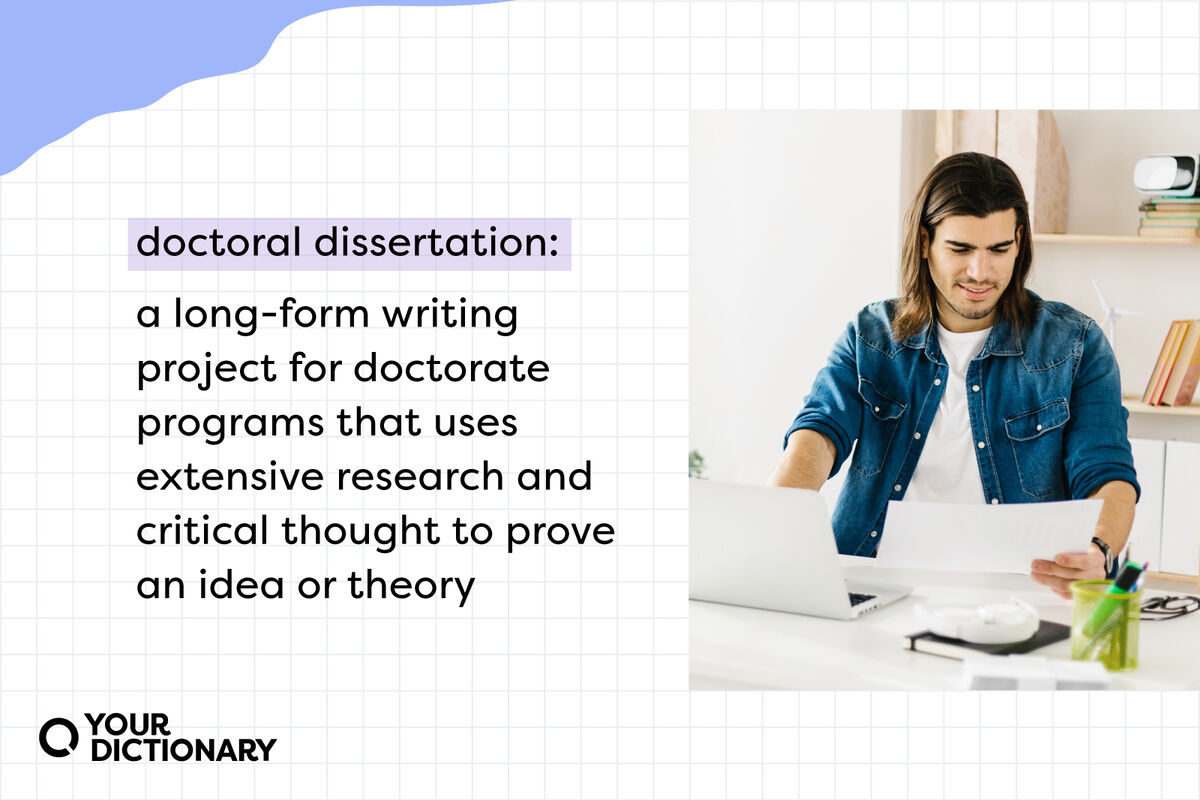 If you've achieved your master's degree and want to go even further in your education journey, a doctoral degree is likely on the horizon. Doctorates aren't without their rewards and challenge, but the main project you'll work on in the entirety of your doctorate is your dissertation. But what is a dissertation, and what do you need to do to write a good one?
What Is a Doctoral Dissertation?
If you're interested in getting a doctoral degree, you have probably heard mention of something called a dissertation, doctoral dissertation, or PhD dissertation. These are all the same thing and refer to a long-form writing project that uses extensive research and critical thought to prove an idea or theory.
A dissertation includes:
Coming up with your own theory or hypothesis that you answer or address comprehensively
Gathering research, which includes finding existing literature as well as performing research of your own (surveys, experiments, and other empirical research)
Developing a complete publication that could be used by future researchers
The purpose of a dissertation is to show everything that you've learned, everything you've taken in throughout your doctoral education, in an applied form of writing.
How Long Is a Doctoral Dissertation?
It really can't be emphasized enough: Dissertations are comprehensive works. This is less of a long research paper and more of a full on book. The introduction alone is about as long as your average undergrad paper.
On average, a dissertation is between 100 and 300 pages long. That can include:
A copyright
An abstract
Acknowledgements
Dedications
Epigraphs
A glossary
Tables, illustrations, and other supplemental visuals
Do You Need To Write a Doctoral Dissertation?
The unsatisfying answer: It depends. If you enter a doctoral program, chances are pretty good that you'll have to complete a dissertation in order to receive your degree.
That said, not all doctoral programs require a dissertation. For example, a Juris Doctor (law degree) doesn't usually require a dissertation, though there are plenty of other stringent writing requirements involved with that degree.
Virtually all Doctor of Philosophy (PhD) programs will require a dissertation. Those that don't necessitate a dissertation will likely require a capstone, which is a whole other can of worms. In other words, don't let dissertation requirements sway your decision to get a doctoral degree too much.
How To Write a Doctoral Dissertation
Now that you have a basic idea of what's expected of your doctoral dissertation, how do you go about writing a good or effective one? Looking at some examples can help, but a lot of it really comes down to you, your writing voice, and the research effort you put into your dissertation. We can also give you some tips to figure out your potential process.
Choose a Topic That You'd Marry
Probably the most important part of your dissertation is the topic. Unlike an essay, a dissertation is something that you'll spend literal years with. Looking at a dissertation vs. master's thesis, one of the many differences is that time commitment. Even the slightest inkling of disinterest now could lead to complete distaste or outright hate in a few years.
It's not a one-and-done situation. This is a long-term relationship, so choose a topic that you won't get bored of that presents significant research opportunities.
How do you actually do that? There isn't really one singular, easy answer, but some suggestions for you:
Consider any previous work or research that you've done. Did you find some larger questions or topics within that previous research that you can explore further?
Talk to your favorite professor for ideas, especially if they themselves are in the middle of their own research.
Take a zoomed-out view of your entire time in higher education. What are skills and knowledge that you've gained in that time? Going further, if you had to teach one new class at the end of the tenure, a class that doesn't currently exist, what would you want to teach?
Determine the Best Type of Research to Include
Dissertations require expansive research. That means building off of existing research and literature (secondary data) and/or conducting your own research (primary data). Depending on your topic and field of study, you may choose just one type of data, or you may use both forms of data.
From there, you also have to sift your way through qualitative research and quantitative research.
Qualitative research is all about exploring the views and opinions of people, which can come from interviews or observations.
Quantitative research is all about numbers and hard data, giving you factual, measurable information.
Unfortunately, we can't choose your data for you, but neither choice is good or bad. It all depends! You're probably not going to use much quantitative research if you're writing a dissertation about a writer, for example.
Treat Your Dissertation Like a Job
On top of your own studies, potential teaching work, and personal life, it can be hard to really stay focused on any part of your dissertation.
The best way to keep yourself on track with your dissertation is to treat it like a job. Dedicate 20 hours a week to your dissertation, whether that's gathering research, writing chapter drafts, or performing edits on previous chapters.
You can obviously reduce or increase that allotment as you write, but that ensures that you spend some time every week working on it while also giving your brain and yourself a break when you're not working on it.
How To Finish Your Doctoral Dissertation
So you've finished writing your dissertation, complete with a bibliography and acknowledgements. All the pages are numbered, and everything looks and reads how you want it. So now you just submit it and dust off your hands, right?
Turns out that you're not actually done yet. There are a few extra steps that you need to go through.
Make Use of Professional Editing Services
By all means, you should go through your own dissertation and edit where you see fit. However, it's not uncommon for people to make use of a professional editor. This can benefit you in a few ways:
A professional editor is specifically trained to refine the language of a dissertation, ensure that it complies with style guidelines, and generally make sure that it's on track.
Spending years on the same thing, you may be too honed in on your dissertation to be an objective reader. An editor can take a zoomed out, holistic view of your dissertation.
Similarly, your dissertation can make perfect sense to you, but it may not make great sense to someone else. An editor gives you a second opinion to make sure that everything is copacetic.
Professional editing isn't a requirement, and prices for these services can vary, from a flat fee to a few cents per word. It can be worth the investment, and it gives you that extra safety net if you're worried.
Give Your Dissertation the Royal Treatment (With Printing and Binding)
Unfortunately, you can't print out your dissertation, punch a staple in the corner, and call it a day. For one, a single staple in potentially 300 pages isn't ideal. For two, your dissertation is a big deal! You spent so much time researching and writing your dissertation; it deserves special treatment.
With printing, you mainly have to decide on color or black-and-white. If you don't have any illustrations or intensive graphs, you probably don't need to worry about color.
For binding a dissertation, your main options are leather binding and thermal binding. There's nothing wrong with thermal, but leather binding is the recommended form. It costs more, but it will make your dissertation stand out.