sanction

sanc·tion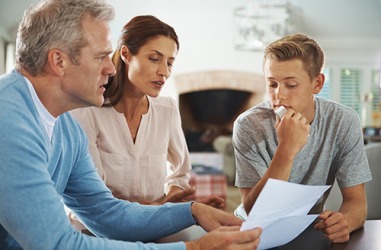 Cody's parents will not sanction car privileges until he brings up his school grades.
noun
Sanction is a penalty for wrongful action.

An example of sanction is jail time.
verb
To sanction is for a recognized authority to give approval to something.

An example of sanction is when a parent lets his child leave school.
---
sanction
the act of a recognized authority confirming or ratifying an action; authorized approval or permission
support; encouragement; approval
something that gives binding force to a law, or secures obedience to it, as the penalty for breaking it, or a reward for carrying it out
something, as a moral principle or influence, that makes a rule of conduct, a law, etc. binding
: often used in pl.

a coercive measure, as a blockade of shipping, usually taken by several nations together, for forcing a nation considered to have violated international law to end the violation
a coercive measure, as a boycott, taken by a group to enforce demands

Obs.

a formal decree; law
Origin of sanction
from French or L: French from Classical Latin
sanctio
from
sanctus
: see saint
to give sanction to; specif.,
to ratify or confirm
to authorize or permit; countenance
---
sanction
noun
Authoritative permission or approval that makes a course of action valid. See Synonyms at permission.
Support or encouragement, as from public opinion or established custom.
A consideration, influence, or principle that dictates an ethical choice.

a. The penalty for noncompliance with a law or legal order.

b. A penalty, specified or in the form of moral pressure, that acts to ensure compliance with a social standard or norm.

c. A coercive measure adopted usually by several nations acting together against a nation violating international law.
transitive verb
sanc·tioned, sanc·tion·ing, sanc·tions
To give official authorization or approval to: voting rights that are sanctioned by law.
To encourage or tolerate by indicating approval: His colleagues sanctioned his new research.
To penalize, as for violating a moral principle or international law: "Half of the public defenders of accused murderers were sanctioned by the Texas bar for legal misbehavior or incompetence" ( Garry Wills )
Origin of sanction
Middle English
enactment of a law
from
Old French
ecclesiastical decree
from
Latin
sānctiō
sānctiōn-
binding law, penal sanction
from
sānctus
holy
; see
sanctify
.
Related Forms:
sanc′tion·a·ble

adjective
Word History:
Occasionally, a word can have contradictory meanings. Such a case is represented by
sanction,
which can mean both "to allow, encourage" and "to punish so as to deter."
Sanction
comes from the Latin word
sānctiō,
meaning "a law or decree that is sacred or inviolable." This noun is related to the Latin verb
sancīre,
which basically meant "to render sacred or inviolable by a religious act," but was also used in such extended meanings as "to ordain," "to decree," and "to forbid under pain of punishment." Thus from the beginning, two fundamental notions of law were wrapped up in the word: law as something that permits or approves and law that forbids by punishing. In English, the word
sanction
is first recorded in the mid-1500s in the meaning "law, decree." Not long after, in the 1600s, it also came to be used to refer to the penalty enacted to cause one to obey a law or decree. From the noun, a verb
sanction
was created in the 18th century meaning "to allow by law," but it wasn't until the second half of the 1900s that it began to mean "to punish (for breaking a law)." English has a few other words that can refer to opposites, such as the verbs
dust
(meaning both "to remove dust from" and "to put dust on") and
trim
(meaning both "to cut something away" and "to add something as an ornament").
---
sanction

Verb
(third-person singular simple present sanctions, present participle sanctioning, simple past and past participle sanctioned)
To give official authorization or approval to; to countenance.
To penalize (a State etc.) with sanctions.
---
sanction - Investment & Finance Definition
Any of various penalties that may be imposed against an entity or an individual who has violated federal securities laws.
Any of various penalties that may be imposed against a government, typically by using trade sanctions. In addition, international organizations such as the United Nations may issue sanctions against countries as a deterrent to undesirable activities.
---
sanction - Legal Definition
n
A penalty imposed for violating accepted social norms. A sanction may be civil or criminal in nature. Criminal sanctions are either fine, imprisonment, or both.
n
Authorization and/or approval by someone in a position of authority; for example,
v
the act of imposing a penalty.
---