verb
Evade is defined as to be deceitful to get around or escape from.

An example of evade is to hide from the police.
YourDictionary definition and usage example. Copyright © 2013 by LoveToKnow Corp.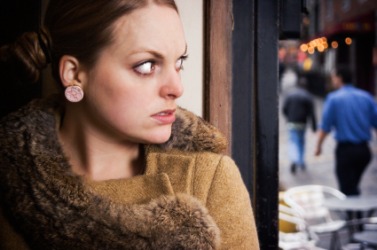 This woman is trying to evade someone.
Licensed from iStockPhoto
---
intransitive verb
evaded, evading
Rare

to escape; get away
to be deceitful or clever in avoiding or escaping something; use evasion
Origin: French évader ; from Classical Latin evadere ; from e-, out, from plush vadere, to go: see wade
transitive verb
to avoid or escape from by deceit or cleverness; elude: to evade a pursuer
to avoid doing or answering directly; get around; get out of: to evade a question, to evade payment of a tax
Webster's New World College Dictionary
Copyright © 2010 by Wiley Publishing, Inc., Cleveland, Ohio.
Used by arrangement with John Wiley & Sons, Inc.
---
verb
e·vad·ed
,
e·vad·ing
,
e·vades
verb
, transitive
To escape or avoid by cleverness or deceit: evade arrest.

a. To avoid fulfilling, answering, or performing:

evade responsibility.

See Synonyms at

escape

.

b. To fail to make payment of (taxes).

To avoid giving a direct answer to.
To baffle or elude: The accident evades explanation.
verb
, intransitive
To practice evasion.
To use cleverness or deceit in avoiding or escaping.
Origin: French évader, from Latin ēvādere : ē-, ex-, ex- + vādere, to go.
Related Forms:
e·vadˈa·ble, e·vadˈi·ble

adjective
The American Heritage® Dictionary of the English Language
, 4th edition Copyright © 2010 by Houghton Mifflin Harcourt Publishing Company. Published by Houghton Mifflin Harcourt Publishing Company. All rights reserved.