blink

blink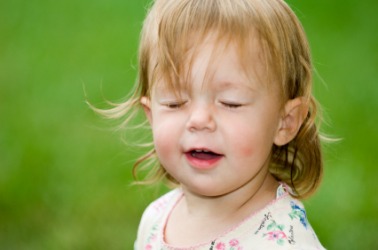 A little girl blinks.
noun
The definition of a blink is a quick opening and closing of the eyes, or an on and off flash of light.

An example of a blink is the eyes being closed for half a second.
An example of a blink is a shooting star.
verb
Blink is defined as means to open and close or turn on and off quickly, especially the eyelids.

An example of blink is to rapidly close and open the eyelids.
---
blink
to close the eyelids and open them quickly one or more times, as either a reflex or a conscious act
to flash on and off; twinkle or glimmer
to look with eyes half-shut and winking, as in dazzling light

to ignore or overlook some fact or situation: with at: to blink at a co-worker's mistake
to react with shock or astonishment: with at: he didn't blink at the new car's sticker price

Informal

back down (see phrase at back)

Obs.

to look with a glance
Origin of blink
Middle English
blenken, blenchen
: see blench
to wink (the eyes) rapidly
to cause (eyes, light, etc.) to wink or blink
to get rid of (tears, eye drops, etc.) by blinking: with away or from
to disregard deliberately (a fact or situation); evade awareness of
to signal (a message) by flashing a light, etc.
a blinking of the eyes
a brief flash of light; twinkle or glimmer

Chiefly Scot.

a quick look; glimpse

iceblink
snowblink
on the blink
Slang
not working right; out of order
---
blink
verb
blinked, blink·ing, blinks
verb
intransitive
To close and open one or both of the eyes rapidly.
To look in astonishment or disbelief, typically with the eyes blinking: stood blinking at the money they found in the drawer; blinked at the results of the experiment.
To look through half-closed eyes, as in a bright glare; squint: blinked at the page trying to make out the letters.
To give off light with intermittent gleams; flash on and off: "blazing neon signs, brilliant shop windows, decorations blinking across the fronts of half-finished tower blocks" ( Jess Row )
To pretend to be ignorant of; disregard or condone: a mayor who refused to blink at corruption.
To waver or back down, as in a contest of wills: "This was the first genuine, direct confrontation between this administration and the Soviets. It was the U.S.A. that blinked" ( Zbigniew Brzezinski )
verb
transitive
To cause to blink: blinked his eyes to clear his vision.
To hold back or remove from the eyes by blinking: blinked back the tears.
To refuse to recognize or face: blink ugly facts.
To transmit (a message) with a flashing light.
noun
The act or an instance of rapidly closing and opening the eyes or an eye.
An instant: I'll be back in a blink.
Scots A quick look or glimpse; a glance.
A flash of light; a twinkle.
See iceblink.
Origin of blink
Probably
Middle English
blinken
to move suddenly
variant of
blenchen
; see
blench
1
.
---
blink

Verb
(third-person singular simple present blinks, present participle blinking, simple past and past participle blinked)
To close and reopen both eyes quickly.

The loser in the staring game is the person who blinks first.

To flash headlights on a car at.

An urban legend claims that gang members will attack anyone who blinks them.

To send a signal with a lighting device.

Don't come to the door until I blink twice.

To flash on and off at regular intervals.

The blinking text on the screen was distracting.

(hyperbolic) To perform the smallest action that could solicit a response.
To wink; to twinkle with, or as with, the eye.
To see with the eyes half shut, or indistinctly and with frequent winking, as a person with weak eyes.
To shine, especially with intermittent light; to twinkle; to flicker; to glimmer, as a lamp.
To turn slightly sour, or blinky, as beer, milk, etc.
Noun
(plural blinks)
The act of very quickly closing both eyes and opening them again.
(figuratively) The time needed to close and reopen one's eyes.
(computing) A text formatting feature that causes text to disappear and reappear as a form of visual emphasis.
(nautical) The dazzling whiteness about the horizon caused by the reflection of light from fields of ice at sea; iceblink
Origin
From Middle Dutch blinken. Related to blank.
---