reflex

re·flex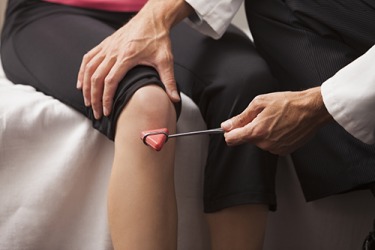 The doctor is performing a test of the patellar reflex on the patient.
adjective
The definition of reflex is something done automatically without thinking about it, or something reflected back.

Hiccuping is an example of something that would be described as a reflex action.
noun
Reflex is defined as something that you do or think automatically, or a reflection.

When something is flying at your head and you instinctively close your eyes without thinking about it, this is an example of a reflex.
---
reflex
reflection, as of light
light or color resulting from reflection

a reflected image, likeness, or reproduction

Physiol.

a reflex action
any quick, automatic or habitual response
[pl.] ability to react quickly and effectively: a boxer with good reflexes
Origin of reflex
from Classical Latin
reflexus,
reflected, past participle of
reflectere:
see reflect
turned, bent, or reflected back

coming in reaction or reflection: a reflex effect

Physiol.

designating or of an involuntary action, as a sneeze, resulting from a stimulus that is carried by an afferent nerve to a nerve center and the response that is reflected along an efferent nerve to some muscle or gland

Electronics

designating or of a device, circuit, etc. that has two different functions

Geom.

designating an angle greater than a straight angle (180°)
to bend, turn, or fold back
to cause to undergo a reflex process
---
reflex
adjective
Physiology Being an involuntary action or response, such as a sneeze, blink, or hiccup.
Produced as an automatic response or reaction: reflex opposition to change.
Bent, turned, or thrown back; reflected.
Reflexed.
noun
a. Physiology An involuntary response to a stimulus.

b. reflexes A person's ability to respond to new or changing stimuli: His quick reflexes make him a good taxi driver.

Psychology An unlearned or instinctive response to a stimulus.
Linguistics A form or feature that reflects or represents an earlier, often reconstructed, form or feature having undergone phonetic or other change.

a. Something, such as light or heat, that is reflected.

b. An image produced by reflection.

c. A copy or reproduction.
Origin of reflex
From
Middle English
reflexen
to refract light, bend back
from
Latin
reflexus
past participle of
reflectere
to bend back
; see
reflect
.
---
reflex

Noun
(plural reflexes or reflices)
(linguistics) the descendant of an earlier language element, such as a word or phoneme, in a daughter language
Tennyson

On the depths of death there swims / The reflex of a human face.
Adjective
(comparative more reflex, superlative most reflex)
Produced automatically by a stimulus.
(geometry, of an angle) Having greater than 180 degrees but less than 360 degrees.
(photography) Of a camera or camera mechanism, using a mirror to reflect the image onto a ground-glass viewfinder, allowing the photographer to see it up to the moment of exposure.
Verb
(third-person singular simple present reflexes, present participle reflexing, simple past and past participle reflexed)
to respond to a stimulus
Origin
From Late Latin reflexus, past participle of reflectere ("to bend back").
---
reflex - Computer Definition

---