reaction

re·ac·tion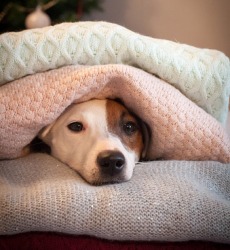 Ziggy's reaction to thunderstorms is to hide under the blankets.
noun
The definition of a reaction is a response.

An example of a reaction is someone stopping their car at a stop sign.
---
reaction
a return or opposing action, force, influence, etc.
a response, as to a stimulus or influence
a movement back to a former or less advanced condition, stage, etc.; esp., such a movement or tendency in economics or politics; extreme conservatism

Chem.

the mutual action of substances undergoing chemical change
a process that involves changes within the nucleus of an atom
the state resulting from such changes

Med.

an action induced by resistance to another action
the effect produced by an allergen
a depression or exhaustion of energy following nervous tension, overstimulation, etc.
an increased activity following depression

an organic response to a stimulus
---
reaction
noun
a. A response to a stimulus.

b. The state resulting from such a response.

A reverse or opposing action.

a. A tendency to revert to a former state.

b. Opposition to progress or liberalism; extreme conservatism.

Chemistry A change or transformation in which a substance decomposes, combines with other substances, or interchanges constituents with other substances.
Physics A nuclear reaction.
Physics An equal and opposite force exerted by a body against another body that is exerting a force on it.
The response of cells or tissues to an antigen, as in a test for immunization.
---
reaction

Noun
(plural reactions)
An action or statement in response to a stimulus or other event

The announcement of the verdict brought a violent reaction.
You were in the courtroom. What is your reaction?
When I last tried to eat strawberries I had a terrible allergic reaction.

(chemistry) A transformation in which one or more substances is converted into another by combination or decomposition

In this reaction, the acid and base will neutralize each other, producing a salt.
---