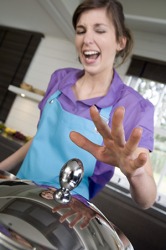 She reacted by pulling her hand away quickly when she touched the hot lid.
verb
React is defined as to respond to something, or to act in opposition to something.

An example of react is for a person to quickly pull his hand away after accidentally touching a hot stove.
An example of react is for a government body to pass a bill to stop an action that is currently going on in the community.
---
react
to act in return or reciprocally
to act in opposition
to act in a reverse way; go back to a former condition, stage, etc.
to respond to a stimulus; be affected by some influence, event, etc.

Chem.

to act with another substance in producing a chemical change
Origin of react
from Late Latin
reactus,
past participle of
reagere
from Classical Latin
re-,
again +
agere,
to act
to cause to react; specif., to produce a chemical change in
---
react
verb
re·act·ed, re·act·ing, re·acts
verb
intransitive
To act in response to or under the influence of a stimulus or prompting: reacted strongly to the sarcastic tone of the memorandum.
To act in opposition to a former condition or act: composers who reacted against romanticism.
To act reciprocally or in return.
Chemistry To undergo a reaction: Methane reacts with hydroxyl to produce formaldehyde.
verb
transitive
Chemistry
To cause (a substance or substances) to undergo a reaction.
---
react

Verb
(third-person singular simple present reacts, present participle reacting, simple past and past participle reacted)
To act or perform a second time; to do over again; to reenact.

to react a play; the same scenes were reacted at Rome

To return an impulse or impression; to resist the action of another body by an opposite force; as, every body reacts on the body that impels it from its natural state.
To act upon each other; to exercise a reciprocal or a reverse effect, as two or more chemical agents; to act in opposition.
---