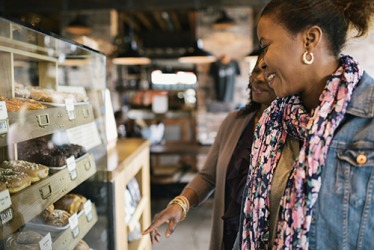 Tanya and Vickie couldn't resist trying several kinds of pastries because they all looked and smelled so divine.
verb
Resist is defined as to fend off, oppose or work against.

An example of to resist is someone running away from the police to avoid being arrested.
---
resist
to withstand; oppose; fend off; stand firm against; withstand the action of

to oppose actively; fight, argue, or work against
to refuse to cooperate with, submit to, etc.: to resist conscription

to keep from yielding to, being affected by, or enjoying: to resist temptation
Origin of resist
Middle English
resisten
from Middle French
resister
from Classical Latin
resistere
from
re-,
back +
sistere,
to set, causative of
stare,
to stand
to oppose or withstand something; offer resistance
a substance that resists, esp. something applied as a protective coating
---
resist
verb
re·sist·ed, re·sist·ing, re·sists
verb
transitive
a.

To take action in opposition to; try to eliminate, reduce, or stop:

resisted the effort to close the school.

See Synonyms at

oppose

.

b. To take action to defeat or thwart (an invading or occupying military force).

a. To remain unaltered, undamaged, or unaffected by; withstand: a crank that resists torque; a material that resists solar degradation.

b. To provide resistance to (an electrical current).

To keep from giving in to, engaging in, or enjoying: resisted pressure to conform; resisted investing in real estate.
verb
intransitive
To offer resistance.
noun
A substance that can cover and protect a surface, as from corrosion.
Origin of resist
Middle English
resisten
from
Old French
resister
from
Latin
resistere
re-
re-
sistere
to place
; see
stā-
in Indo-European roots.
Related Forms:
---
resist

---