verb
Balk is defined as to create a hindrance or a barrier.

An example of something that may balk your chances to finish college is a refusal by a lender to provide financial aid.

The definition of balk is to stop or hold back from doing something.

An example of something at which someone might balk is cleaning up a mess that he did not make.
An example of an animal that may balk is a mule.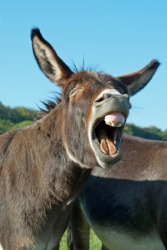 A mule might balk.
---
balk definition by Webster's New World
noun
a ridge of unplowed land between furrows
a roughly hewn piece of timber
a beam used in construction
something that obstructs or thwarts; check, hindrance, disappointment, etc.

Obsolete

a blunder; error

Baseball

an illegal motion by the pitcher, such as an uncompleted motion to throw to a base, while one foot is on the rubber: it entitles each base runner to advance one base

Billiards

any of the outer spaces between the cushions and the balkline
Origin: Middle English balke ; from Old English balca, a bank, ridge ; from Indo-European an unverified form bhelg- (extended stem of an unverified form bhel-, a beam) from source German balken, beam, Classical Greek phalanx, Classical Latin fulcrum
transitive verb
Obsolete

to make balks in (land)
to obstruct or thwart; foil

Archaic

to miss or let slip by

Baseball

to force (a base runner to score from third base) by committing a balk
intransitive verb
to stop and obstinately refuse to move or act
to hesitate or recoil (at)
to make a balk in baseball
Webster's New World College Dictionary Copyright © 2010 by Wiley Publishing, Inc., Cleveland, Ohio. Used by arrangement with John Wiley & Sons, Inc.
---
balk definition by American Heritage Dictionary
verb
balked
,
balk·ing
,
balks
verb
, intransitive
To stop short and refuse to go on: The horse balked at the jump.
To refuse obstinately or abruptly: She balked at the very idea of compromise.

a. Sports To make an incomplete or misleading motion.

b. Baseball To make an illegal motion before pitching, allowing one or more base runners to advance one base.
verb
, transitive
To check or thwart by or as if by an obstacle.
Archaic To let go by; miss.
noun
A hindrance, check, or defeat.
Sports An incomplete or misleading motion, especially an illegal move made by a baseball pitcher.
Games One of the spaces between the cushion and the balk line on a billiard table.

a. An unplowed strip of land.

b. A ridge between furrows.

A wooden beam or rafter.
Origin: Middle English balken, to plow up in ridges, from balk, ridge, from Old English balca and from Old Norse balkr, beam.
Related Forms: