immunity

im·mu·ni·ty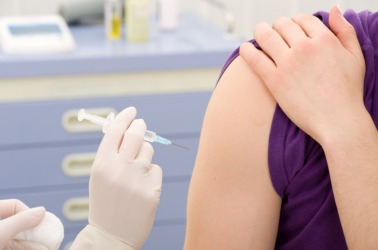 Vaccinations provide immunity from diseases.
noun
Immunity is defined as being able to resist a disease or medical condition or the freedom from punishment.

An example of immunity is having a resistance to getting the flu because you have had a flu shot.
An example of immunity is the freedom of not being punished for a crime because a person agreed to testify for the prosecutor.
---
immunity
noun
pl.
-·ties
exemption or freedom from something burdensome or otherwise unpleasant; specif., legal exemption as from criminal prosecution or civil suit: a foreign ambassador with diplomatic immunity
resistance to or protection against a specified disease; power to resist infection, esp. as a result of antibody formation
Origin of immunity
Middle English
ynmunite
from Old French
immunité
from Classical Latin
immunitas
, freedom from public service from
immunis
: see immune
---
immunity
noun
pl.
im·mu·ni·ties
The quality or condition of being immune: "His above-average size during adolescence did not purchase immunity from the depredations of school bullies" ( Stephen S. Hall )
Immunology Inherited, acquired, or induced resistance to infection by a specific pathogen.
Law

a. Exemption from certain generally applicable requirements of law or from certain liabilities, granted to special groups of people to facilitate the performance of their public functions: diplomatic immunity; judicial immunity.

b. Exemption from prosecution granted to a witness to compel him or her to give potentially self-incriminating testimony that otherwise could not be compelled because of the constitutional right against self-incrimination.

c. Exemption from being sued: sovereign immunity; charitable immunity.

A condition conferred upon a contestant that prevents him or her from being eliminated from a competition for a certain time period: The winner of the challenge was given immunity for the following challenge.
---
immunity

Noun
(countable and uncountable, plural immunities)
(uncountable) The state of being insusceptible to something; notably:

(countable) A resistance to a specific thing.
Origin
From Old French immunité, from Latin immunitas, in the legal sense; for the medical use see immunization.
---
immunity - Legal Definition
n
An exemption from a duty or penalty.
A permanent status, as for a diplomat, exempting one from being sued or prosecuted for certain actions.
A special status, granted by a prosecutor, exempting a witness from being prosecuted for the acts to which he or she testifies.
sovereign immunity
The doctrine (subject to certain exceptions) that a government may not be sued in its own courts or in courts of another nation or level of government; many limitations on this doctrine apply and vary from state to state.  Sometimes referred to as governmental immunity.
transactional immunity
A grant of immunity to a witness by a prosecutor that exempts the witness from being prosecuted for the acts about which the witness will testify.
use immunity
A grant of immunity to a witness by a prosecutor, under which the prosecutor promises not to use the witness' testimony against him or her, but reserves the right to prosecute the witness for the underlying action.
---