resistance

re·sis·tance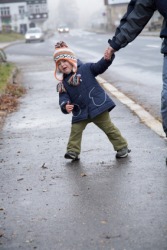 A mother gets resistance from her child.
noun
Resistance is defined as a refusal to give in or to something that slows down or prevents something.

An example of resistance is a child fighting against her kidnapper.
An example of resistance is wind against the wings of a plane.
---
resistance
the act of resisting, opposing, withstanding, etc.
power or capacity to resist; specif., the ability of an organism to ward off disease
opposition of some force, thing, etc. to another or others
a force that retards, hinders, or opposes motion
[oftenR-] the organized underground movement in a country fighting against a foreign occupying power, a dictatorship, etc., as in France during the Nazi occupation

Elec.

the property of a component by which it resists the flow of electricity, usually measured in ohms and equal to the ratio of the voltage to the current: it is the reciprocal of conductance (abbrev. R)
resistor

Psychoanalysis

the active psychological opposition to the bringing of unconscious, usually repressed, material to consciousness
Origin of resistance
Middle English from Middle French
resistence
from Late Latin
resistentia
---
resistance
noun
The act or an instance of resisting or the capacity to resist.
A force that tends to oppose or retard motion.
often Resistance An underground organization engaged in a struggle for national liberation in a country under military or totalitarian occupation.
Psychology A process in which the ego opposes the conscious recall of anxiety-producing experiences.
Biology

a. Ability (of an organism, tissue, or cell) to withstand a destructive agent or condition such as a chemical compound, a disease agent, or an environmental stressor: antibiotic resistance; resistance to fungal diseases; drought resistance.

b. Lack of normal response to a biologically active compound such as a hormone: insulin resistance.

Electricity The opposition of a body or substance to current passing through it, resulting in a change of electrical energy into heat or another form of energy.
Thermal resistance.
---
resistance

Origin
From French résistance.
---
resistance - Computer Definition

A measure of the opposition by a circuit, component, material, or free space to the flow of an electric current. Resistance is the value of R in the Ohm's Law equation I = V/R, where I is the electric current, and V is voltage, or the difference in electric potential between two points in a circuit. Resistance is the real part of impedance. The SI unit of measurement of resistance is the Ohm ( ).The reciprocal of resistance is conductance, the official measurement of which is the mho, which is Ohm spelled backwards. In an electrical circuit, resistance results in attenuation, or loss of signal strength. See also conductance, current, Ohm, and voltage.
---
resistance - Investment & Finance Definition
In technical analysis, a price point or points that a futures contract or other financial instrument will have difficulty rising above. Resistance is a price level where selling pressure overcomes buying pressure and a price advance is turned back. The opposite is support, which is a technical analysis term. It indicates a price point that prices will have difficulty moving below. Technical analysts look at resistance in order to determine the market's next likely move. For instance, if gold prices have been attempting to move higher but each day's gain stops at $335 per ounce of gold or $336, then those two price points are where resistance occurs.
---