reserve

re·serve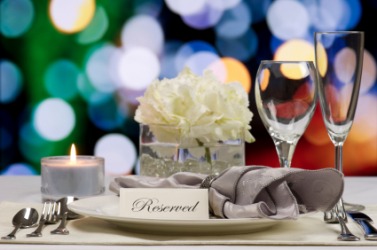 This restaurant has been asked to reserve this table.
adjective
Reserve means relating to being stored.

An example of reserve used as an adjective is a reserve fund which means money being held for future use.
noun
The definition of a reserve is something kept or stored if needed.

An example of reserve is a money reserve which means cash stored away in case of an emergency.
verb
Reserve is defined as to save or secure, particularly for future use.

An example of to reserve is to call a restaurant and ask them to hold a table for you.
---
reserve
transitive verb
-·served′

,

-·serv′ing
to keep back, store up, or set apart for later use or for some special purpose
to hold over to a later time
to set aside or have set aside for a special person, etc.: to reserve a theater seat
to keep back or retain for oneself: to reserve the right to refuse
Origin of reserve
Middle English
reserven
from Old French
reserver
from Classical Latin
reservare
from
re-,
back +
servare:
see observe
something kept back or stored up, as for later use or for a special purpose
a limitation or reservation: now rare except in

without reserve

(see phrase below)
the practice of keeping one's thoughts, feelings, etc. to oneself; self-restraint or aloofness in speech and manner
reticence; silence
restraint and control in artistic expression; freedom from exaggeration or extravagance
[pl.]

available participants kept out of action for use in an emergency or for replacing active groups or units, as in sports or warfare
personnel or units in the armed forces not on active duty but subject to call; militia: with the

cash, or assets readily turned into cash, held out of use by a bank, insurance company, or business to meet expected or unexpected demands
land set apart for a special purpose: a forest reserve
being, or having the nature of, a reserve or reserves: a reserve supply
in reserve
reserved for later use or for some person
without reserve
subject to no limitation
without any minimum or asking price: said of goods offered at auction
---
reserve
transitive verb
re·served, re·serv·ing, re·serves
To keep back, as for future use or for a special purpose: The hospital reserves certain drugs for the most serious cases.
To set or cause to be set apart for a particular person or use: reserved a seat on the next flight out. See Synonyms at book1.
To keep or secure for oneself; retain: I reserve the right to disagree. See Synonyms at keep.
noun
a. Something kept back or saved for future use or a special purpose: a runner with a reserve of energy for the final lap.

b. An amount of capital that is not invested or otherwise used in order to meet probable demands, such as withdrawals by bank depositors or claims on insurance policies.

a. Lack of enthusiasm, as from a misgiving or doubt: supported the idea without reserve.

b. Self-restraint in expression or bearing; reticence or coolness: maintained a dignified reserve throughout the ceremony.

A reservation of public land: a forest reserve.
An amount of a mineral, fossil fuel, or other resource known to exist in a particular location and to be exploitable: the discovery of large oil reserves.

a. A fighting force kept uncommitted until strategic need arises.

b. The part of a country's armed forces not on active duty but subject to call in an emergency.

c. A member of either of these forces: the army's active reserves.

Sports

a. A group of players that play only as substitutes for starters in games or are kept from playing for some reason.

b. One of these players.
adjective
Held in or forming a reserve: a reserve supply of food.
Origin of reserve
Middle English
reserven
from
Old French
reserver
from
Latin
reservāre
to keep back
re-
re-
servāre
to keep
; see
ser-
1
in Indo-European roots.
Related Forms:
---
reserve

Noun
(plural reserves)
The act of reserving, or keeping back; reservation; exception.

I accept your view with one reserve.

That which is reserved, or kept back, as for future use.
A natural resource known to exist but not currently exploited.

New oil reserves are continuously being discovered, but not as fast as the existing ones are running out.

Restraint of freedom in words or actions; backwardness; caution in personal behavior.
A tract of land reserved, or set apart, for a particular purpose; as, the Connecticut Reserve in Ohio, originally set apart for the school fund of Connecticut; the Clergy Reserves in Canada, for the support of the clergy.
(Canada) A tract of land set apart for the use of an Aboriginal group; Indian reserve (compare US reservation.)
(military) A body of troops kept in the rear of an army drawn up for battle, reserved to support the other lines as occasion may require; a force or body of troops kept for an exigency.
(finance) Funds kept on hand to meet planned or unplanned financial requirements.
(sports) A member of a team who does not participate from the start of the game, but can be used to replace tired or injured team-mates.
Verb
(third-person singular simple present reserves, present participle reserving, simple past and past participle reserved)
To keep back; to retain.

We reserve the right to make modifications.

To keep in store for future or special use.

This cake is reserved for the guests!

To book in advance; to make a reservation.

I reserved a table for us at the best restaurant in town.
---
reserve - Legal Definition
n
An amount of money or assets set aside against future unrealized risks; monies set aside by insurance companies to pay losses that have not yet been asserted or finalized. 
---