reservation

res·er·va·tion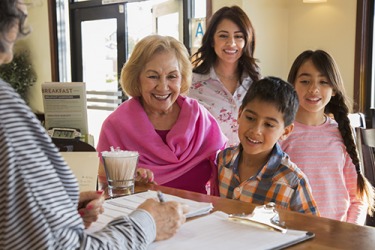 The Lopez family made a reservation at their favorite restaurant to celebrate Grandma's birthday.
noun
The definition of a reservation is something withheld or the act of withholding something.

An example of reservation is someone calling a restaurant and asking them to hold a table for a specific time.
An example of reservation is a concern that holds a person back from doing something.
---
reservation
the act of reserving or that which is reserved; specif.,

a withholding of a right, interest, etc.
that part of a deed or contract which provides for this
public land set aside for some special use: an Indian reservation, military reservation
an arrangement by which a hotel room, theater or airline ticket, etc. is set aside and held until called for
anything so reserved in advance
the promise of or a request for such an arrangement

a limiting condition or qualification, tacit or expressed, as in an agreement: an evaluation made without reservation
a doubt or misgiving: often used in pl.: to make a promise with mental reservations
Origin of reservation
Middle English from Medieval Latin
reservatio
---
reservation
noun
The act of reserving; a keeping back or withholding: the reservation of the right to use the property.

a. A limiting qualification, condition, or exception: accepted with the reservation that she would have to leave early.

b. often reservations A doubt or misgiving: has reservations about the proposal.

A tract of land set apart by the federal government for a special purpose, especially one for the use of a Native American people.
An arrangement by which accommodations are secured in advance, as in a hotel or restaurant or on an airplane.
Related Forms:
---
reservation

Noun
(plural reservations)
Origin
From Middle French reservation.
---
reservation - Legal Definition
n
A right held back or given to the grantor, such as some right, profit, or interest in the estate or property that is being granted; a delayed decision by a court or other body on a point of law; a preservation of the right to dispute a point of contract by a party nevertheless performing same (such as, performing under reservation). See also
under protest
.
---