sanctuary

sanc·tu·ar·y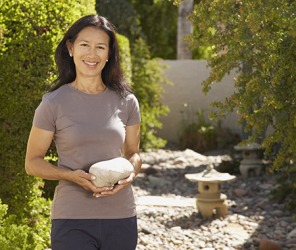 Lydia wants a place to relax and unwind so she is creating a sanctuary in her back yard by building a Japanese garden.
noun
The definition of a sanctuary is a place of refuge or rest, a place where you can feel at peace or the holiest part of a temple or a church.

An example of a sanctuary is a church or temple.
An example of a sanctuary is your home.
---
sanctuary
noun
pl.
-·ar·ies
a holy place, as a building set aside for worship of the divinity or of one or more deities; specif.,

the ancient Temple at Jerusalem
a Christian church
any church or temple
a particularly holy place within a church or temple, as the part around the altar, the holy of holies in the Jewish Temple, etc.

a place of refuge or protection; asylum: orig., fugitives from justice were immune from arrest in churches or other sacred places
immunity from punishment or the law, as by taking refuge in a church, etc.

a wildlife reservation where animals or birds are sheltered for breeding purposes and may not be hunted or trapped
Origin of sanctuary
Middle English from Middle French
saintuaire
from Late Latin
sanctuarium
from Classical Latin
sanctus
, sacred: see saint
---
sanctuary
noun
pl.
sanc·tu·ar·ies
a. A sacred place, such as a church, temple, or mosque.

b. The holiest part of a sacred place, as the part of a Christian church around the altar.

a. A sacred place, such as a church, in which fugitives formerly were immune to arrest.

b. Immunity to arrest afforded by a sanctuary: sought sanctuary in the church.

c.

The condition of being protected or comforted:

"Women such as herself tended to … seek sanctuary in religion"

(

Paul Scott

) See Synonyms at

shelter

.

a. A place of refuge or asylum.

b. A reserved area in which birds and other animals, especially wild animals, are protected from hunting or disturbance.
Origin of sanctuary
Middle English
from
Old French
sainctuarie
from
Late Latin
sānctuārium
from
Latin
sānctus
sacred
; see
sanctify
.
---
sanctuary

Noun
(plural sanctuaries)
A place of safety, refuge, or protection.

My car is a sanctuary, where none can disturb me except for people who cut me off.

An area set aside for protection.

The bird sanctuary has strict restrictions on visitors so the birds aren't disturbed.

A state of being protected, asylum.

The government granted sanctuary to the defector, protecting him from his former government.

The consecrated (sacred) area of a church or temple around its tabernacle or altar.
---